This Is Us finale explained—what happened in Season 5 Episode 16?
This Is Us Season 5 has finally finished, and the finale featured some trademark bombshells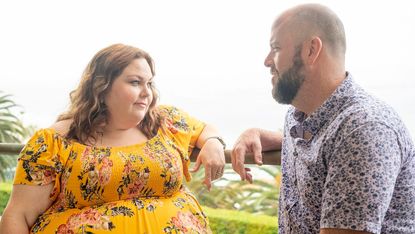 (Image credit: NBC)
OK, breathe. Whew. If you're here because you need the recent This Is Us finale explained, we've got you. Season 5 has finally finished and with its trademark Pearson family twists and turns, it did not disappoint.
This show is one hell of an emotional rollercoaster, as its legions of loyal fans well know. The Emmy Award-winner follows the lives of triplets Randall, Kate, and Kevin Pearson—aka "the Big Three"—along with their parents Rebecca and Jack, and has us flashback-ing and flashforward-ing like no other show on television.
With fewer than 20 episodes of the show remaining before it ends for good after This Is Us Season 6, fans are desperate to learn the fates of their favorite characters. Team woman&home has answered all your burning questions about the recent finale, so buckle up as we recap the end of Season 5.
** Spoilers up to and including the This Is Us Season 5 finale lie ahead! **
This Is Us finale explained: how did Season 5 end?
We did get our finale wedding (more on that later), but in true This Is Us twist fashion, it wasn't Kevin and Madison's. After some serious thought, she cancels the wedding, knowing in her heart of hearts that they weren't getting married for the right reasons. As viewers have kind of known from the off, these two are only really together because of the babies, and Kevin doesn't love Madison the way that she deserves to be loved. The wedding is off, folks. It's the right decision, and we get some nice scenes of the Pearsons rallying around Kevin.
Meanwhile, Toby accepts the job in San Francisco, meaning he's going to be away for three days a week. Kate decides that she needs to put Toby first for the sake of their marriage, so she'll go back to staying home with the kids. However, when she calls to quit her teaching job, her kind of an a** boss Phillip (remember him?) refuses her resignation and hangs up the phone. That's that, then.
Kate and Toby later agree that she's great at her job and they'll make it work with childcare because they both deserve to be happy. Their relationship already seems to be in a much healthier, more positive place. Note the word "seems".
Because here's the biggie: the episode opens with Kevin rehearsing a speech in the mirror, which many viewers will have initially, naively assumed was for his own wedding day. It transpires that not only is this particular wedding five years in the future, but it's not Kevin's big day—it's Kate's.
This appears to confirm a popular fan theory and a lot of foreshadowing on the writers' parts that Toby and Kate will break up. And if you were briefly hoping that perhaps this wedding is Toby and Kate 2.0 after a brief divorce? Sorry, Kate is marrying none other than... Phillip. Yes, the same Phillip who is her boss in the present-day timeline. Wow.
In other news, Randall and Rebecca finally discuss his trip to learn about his birth mom, Madison and Kevin are still firm friends in the flash-forward, and Nicky refers to his wife. So much we still need to learn in Season 6!
How many episodes are in Season 5 of This Is US?
Although originally slated for 18 episodes, just like the seasons before it, This Is Us Season 5 was cut short because of the pandemic. It is now only 16 episodes long, something that was confirmed in the promo for episode 14.
Bust out your calendar and carve out the next big three for the Pearsons. #ThisIsUs returns with all-new episodes starting Tuesday on @NBC. ✍️ 5/11 at 9/8c ✍️ 5/18 at 9/8c ✍️ 5/25 at 10/9c pic.twitter.com/qR1xEJDgqMMay 5, 2021
See more
Was Season 5 the last season of This Is Us? Is there a Season 6?
Season 5 was the penultimate season of This Is Us, which means we have another installment of the Pearsons still to come. Sources have confirmed to PEOPLE and The Hollywood Reporter that This Is Us Season 6 (which is confirmed!) will be the last.
Apparently, creator Dan Fogelman has had the show's ending mapped out for some time. "I would hope that when we reach our ending, people think it's a really satisfying end place that makes sense, and it feels like they've watched something that is a complete piece of work because that's really how we're trying to plan it," executive producer Isaac Aptaker previously told Deadline in 2019.
"We've had this end in mind for a long time, so we're able to plan for it and try to make it feel like it's a whole, as opposed to a series that's going to go endlessly."
Is This Is Us on Netflix or Hulu?
This Is Us isn't currently on Netflix, but all of the episodes so far are available to stream on both Hulu and NBC online. New episodes air on Tuesdays at 9pm/8c on NBC, albeit on a semi-regular basis.
In the UK, you can watch Seasons 1-5 on Amazon Prime, with new episodes usually available the Thursday morning after they've aired in the US.
Over the past few seasons, we've slowly been fed clues to the Pearson family's future, but there are still several questions that need answering in the remaining episodes. Why was Nicky, not Miguel, at Rebecca's bedside? Will Toby and Kate reconcile? Why haven't we seen Kate in the big flash-forward yet? We just know that there is so much more drama left to come.
There's not long left to find out how the Pearson family's story wraps up. We can't wait!
Lucy is a UK-based beauty journalist who has written for the likes of Marie Claire, Cosmopolitan, OK!, Women's Health and more, as well as contributing to woman&home. Her work covers everything from expert skin and haircare tips to the latest product launches and the show-stopping beauty looks spotted backstage at London Fashion Week. During her career she's interviewed some seriously famous faces, from Little Mix to Drag Race royalty The Vivienne, as well as chatting to the industry's leading hairdressers, dermatologists and make-up artists.