When will This Is Us Season 6 air? Everything we know about how the show will end
Here's what we know about the This Is Us Season 6 air date, cast list, plot details and more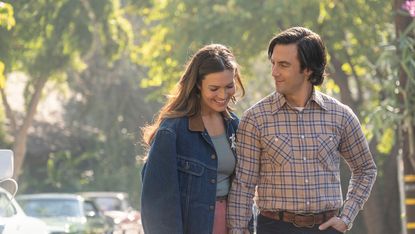 (Image credit: NBC )
If you're as hooked as we are on the hit NBC show, you're no doubt already wondering, when will This Is Us Season 6 air? We need answers after THAT finale, people.
This Is Us Season 5 ended in classic dramatic fashion, changing everything we thought we knew about the Pearson family's current timeline with a flashforward to the future. (More on that signature This Is Us twist later).
Over the last five years we've laughed and cried as we follow the lives of Kate, Kevin and Randall and their parents, Jack and Rebecca, so the thought of a life without the show feels kind of impossible. Here's everything we know about the next season of This Is Us and how the show will end (consider this your official spoiler warning!).
Is This Is Us Season 6 confirmed?
Yes; the show was renewed for an additional three seasons back in 2019, taking us to up This Is Us Season 6. Each season usually has 18 episodes, however the fifth season was cut short to just 16 as a result of the Covid-19 pandemic. When the show wraps for good, we'll have been treated to more than 100 episodes of This Is Us in total. Time flies when you're having fun!
Is This Is Us ending for good with Season 6? Was it cancelled?
Although fans aren't ready for the show to end (us included), Season 6 will be the last for This Is Us. The show hasn't been canceled, but creator Dan Fogelman has always said he doesn't want it to be one of those shows that runs and runs. "We never set out to make a television series that was going to last 18 seasons," he told The Hollywood Reporter in 2019. "We have a very direct plan."
Despite this, the This Is Us cast has remained hopeful that the show will continue in some form. "Next season—season six—is supposed to be our last season. So everybody's a little distraught about it," Chrissy Metz, who plays Kate, told NBC New York in early 2021.
"Who knows? There might be a spinoff. Who knows? Dan might say, 'Oh maybe let's go season 7'". Considering the recent news, This Is Us Season 7 looks pretty unlikely, but who knows what the future holds. Never say never, right?
Is there a This Is Us Season 6 release date yet?
We don't have an exact date for when This Is Us Season 6 will air, but NBC has confirmed it will premiere in early 2022. Rather than starting in September, when the network season begins, the sixth season will air continuously from the middle of NBC's 2021-22 season with no mid-season break.
As with the seasons before it, it's fair to assume that the episodes will be available in the UK on Amazon Prime around the same time as Season 6 airs in the US. However, nothing has been confirmed just yet.
How will This Is Us end?
The biggest question surrounding the This Is Us ending concerns Rebecca, played by Mandy Moore. In Season 5, the Pearson family matriarch's health has continued to deteriorate after she was confirmed to be in the early stages of Alzheimer's. We've also seen several of those flash-forward scenes, in which the family gathers around what appears to be her deathbed. The series finale is going to have us weeping buckets, we can already tell.
It may have crept up on us, but the show's ending has been mapped out for quite some time. "I would hope that when we reach our ending, people think it's a really satisfying end place, that makes sense, and it feels like they've watched something that is a complete piece of work because that's really how we're trying to plan it," showrunner Isaac Aptaker told Deadline in 2019.
"We've had this end in mind for a long time, so we're able to plan for it, and try to make it feel like it's a whole, as opposed to a series that's going to go endlessly." With all that in mind, keep reading for the biggest questions we're hoping to see answered in This Is Us Season 6.
Do Toby and Kate break up in This Is Us?
A major question that hung over the fifth season was the fate of one of the Big Three, Kate, and her husband Toby. Things have been strained between the couple at times, and the Season 4 finale flash-forward had viewers concerned about their future.
In the future, we see Randall call Toby to ask if he was coming to Kevin's house (where the family is gathered to say goodbye to Rebecca). Toby later arrives at the house alone—and isn't wearing his wedding ring.
Unfortunately for KaBy fans, the Season 5 finale only confirmed our fears. In a shock twist, what we initially thought was Kevin's wedding day was revealed to be Kate's, five years ahead of the current timeline. Any remaining hopes that she and Toby might be tying the knot for the second time were quickly dashed, as it was revealed her boss Phillip was the groom.
Chris Sullivan, who plays Toby, had previously revealed that Season 5 would explore the "long term health" of the characters' relationship. "You know that Dan [Fogelman] and the writers are going to have surprises and twists and turns all along these paths," he told EW. "And there is no straight line from point A to point B."
Does Kate die in This Is Us?
As well as not being with a wedding-ring-less Toby, Kate has been noticeably absent from the big time jump scenes—prompting some fans to question whether she'll be killed off at some point during the show.
During their phone conversation, Toby tells Randall that his son, Jack, has said "they're on their way" to the house. What we don't know is if this includes Kate, or is simply Jack and his young family (remember we saw him welcome his first child in Season 4 Episode 1). This begged the question: are Kate and Toby simply not together, as per the recent finale scenes, or has something bad actually happened to one of the Big Three?
How did Rebecca and Miguel get together in This Is Us?
Although we've known that Rebecca eventually married Miguel, Jack's best friend, since the first season, the show has never really explored their relationship or the story of how they got together. Mandy Moore, who plays Rebecca, has previously said this should play out at some point in the remaining two seasons. "I've been told yes, but I also was told last year, so who knows?" she told EW ahead of Season 5. "I'm guessing it has to be this season, because season six [has] 18 episodes to wrap up this whole story.
"Hopefully that will be simultaneously shown with what their life looks like now, and how Miguel was a shoulder for her to lean on in the weeks and months and years after Jack passed away," she added. "Obviously [Miguel] is her caregiver now that she's suffering from dementia. That would be an interesting parallel to see that he's been this rock in her life the whole time."
Fans will remember seeing Rebecca reach out to Miguel on Facebook—so why did they stop talking before then after Jack died? All questions that we hope to see answered by the end of Season 6.
Why was Nicky at Rebecca's bedside in the flash-forward?
Following on from the above, eagle-eyed fans noticed in the big flashforward that it was Jack's brother Nicky, not her second husband Miguel, who was seen at Rebecca's bedside. This suggests that she has got much closer to her late first husband's brother over the years.
But does Miguel's absence mean that he's died at some point before the flashforward? By this point, both he and Rebecca would be fairly elderly. We'd like to think that he's just stepped out of the room for a moment, but this show has a way of putting us through the emotional wringer...
Who does Nicky marry in This Is Us?
Another Nicky-related question is, who is his wife in the five-year jump? When the family arrive at Kevin's household to visit Rebecca's deathbed, Nicky is seen wearing a wedding band.
On Kate's wedding day, this situation is teased further when Kevin passes both his uncle and brother, Randall, in the hallway of the wedding venue. Nicky explains that he's on his way to deliver some stockings to his wife. Has he reconnected with his former girlfriend, Sally? Does Nicky end up marrying Cassidy? Or, in a really big plot twist, has he married Rebecca? (Sounds unlikely, but it's definitely what the show is trying to get us to think, right?)
Will Kevin and Madison get back together?
Although Madison has just called off their wedding day in the present timeline, she and Kevin will still be parenting their twins Nick and Franny for, err, the next 18 years. In the flash-forward to Kate and Phillip's wedding day, there seems to be no bad blood between them—in fact, they seem very close. Could the two have struck up a proper romance this time around, or will they simply remain friends and co-parents? It wouldn't be the show's biggest twist to date if they did end up getting married one day.
Whatever the show has in store for viewers, we're very excited to see how This Is Us ends in Season 6—although we'll be so sad to say goodbye to the Pearson family and their never-ending drama!
Lucy is a UK-based beauty journalist who has written for the likes of Marie Claire, Cosmopolitan, OK!, Women's Health and more, as well as contributing to woman&home. Her work covers everything from expert skin and haircare tips to the latest product launches and the show-stopping beauty looks spotted backstage at London Fashion Week. During her career she's interviewed some seriously famous faces, from Little Mix to Drag Race royalty The Vivienne, as well as chatting to the industry's leading hairdressers, dermatologists and make-up artists.