When is it going to snow in the UK this year and where is it confirmed?
We haven't seen snow in the UK for months, but with autumn now officially here there's been a definite chill in the air in recent days...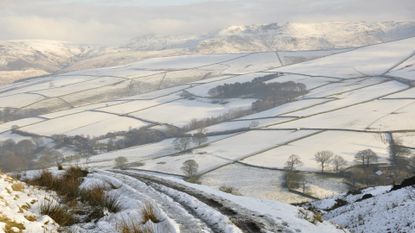 (Image credit: Photos by R A Kearton via Getty)
The prospect of snow in the UK might well be on many people's minds as they bid farewell to the summer and embrace the darker evenings and chilly conditions that accompany the new season.
It might seem like only yesterday that autumn officially started but already the temperatures have begun to drop, leaving many Brits likely looking forward to donning their best cashmere sweaters and setting off on some of the best autumn walks in the UK. Others will likely be wondering when to put the heating on and awaiting news about where they might see the first snow in the UK this autumn. The beginning of 2022 saw Storms Arwen and Storm Barra blanket huge areas of the country and now some forecasts are suggesting there could be flurries arriving over mountainous areas very soon.
But when is it going to snow in the UK and where could be most affected? We reveal what you need to know as the weather takes a chilly turn…
When is it going to snow in the UK this year and where?
Now that the chillier temperatures have arrived and the summer heatwave seems like a distant memory, many people will no doubt be eager to bring out their best winter coats and best winter boots to brace themselves against the cold. And if you're hoping for some snow to help you embrace autumn and winter then whilst not every forecast agrees, you might *just* be in luck if you live in Scotland, with some reports suggesting there could be a bit of snow in mountainous areas there.
According to Express.co.uk (opens in new tab), northerly airflow has been making its way here, with some suggesting that a deep-pressure system is coming from Iceland and that Hurricane Fiona which lasted until September 24th, strengthened high pressure in the Atlantic. Opening up to the publication, British Weather Services meteorologist Jim Dale previously explained that the weather front could "possibly" last into the first weekend of October and that there was a "risk" of snow in the mountains.
"The cold weather will set in at the end of the weekend and looks like it isn't going anywhere quickly. It is looking cold through next week and possibly into next weekend, with the risk of fresh snowfall over the mountains," he said. "However, even further south, the cold is going to be very noticeable, and there could even be the risk of the odd frost. It is fair to say the seasons are about to make a dramatic transition to something much colder."
These predictions for possible snowfall in Scotland might not be unexpected to some given that areas of higher ground there were often forecast to see snow in the UK last year too. Weathertrending meteorologist John Hammond has also echoed this, suggesting that Scottish peaks can "expect" to see snowfall.
John shared, "As Hurricane Fiona surges out of the tropics, this weekend it looks like sending its bundle of remnant warmth as far north as Greenland. The downstream effect will be to squeeze a lobe of cold air out of the Arctic and across the UK".
"A band of rain will sweep southwards early on Monday, and blustery winds and suppressed temperatures will characterise the first half of the week," he added before adding, "The Scottish peaks can expect to see some snowfall, and more widely across the country, pockets of frost are possible in rural areas if winds fall light overnight."
Time Out (opens in new tab)reports that parts of Scotland could see temperatures drop to as low as -4C in remote areas early on in the first week of October and claimed that there could also potentially be some snowfall in higher areas in Northern Ireland. However, despite these predictions, the Met Office haven't currently forecast any major snow and instead suggested that much of the country will instead be facing colder temperatures, winds and rain.
Will it snow anywhere else in the UK?
Sadly, the time hasn't yet come for people living across the length and breadth of the UK to get snuggled up with the best blankets gazing out the window at falling snowflakes. On September 29th the Met Office issued yellow weather warnings for wind and rain across parts of central, northern and western Scotland.
Whilst their Ten Day Trend report saw Alex Deakin discuss the "fairly significant" chill Brits have been feeling as he went on to explain that there will be "heavy burst" of rain and windy conditions for much of the UK on Friday September 30th rather than snow.
We'll have our first spell of wet and windy weather this autumn on Friday, because of #HurricaneFiona & #HurricaneIan 🌪️☔️But what should we expect this weekend & next week? Find out more in our latest 10-Day Trend 👇 pic.twitter.com/CKiop4jDmrSeptember 28, 2022
See more
Over the first weekend of October he said that there's "potential" for the rain to return across Southern England and South Wales. Sunday October 2nd is set to see largely dry and sunny conditions, with some showers possible in the North West.
There's good news for those who are dreading the onslaught of either rain or snow in the UK during the colder months as Alex predicted that the first week of October will likely be milder than we've experienced in recent days.
"So one thing we can be pretty confident about is that next week will be a bit warmer than it has been through this week," he said. "So looking a little bit milder."
The distinct lack of snow predicted for next week and for southern areas of the UK in general might disappoint some, but once again, it doesn't come as a huge surprise.
In 2021 it was Scotland that saw much of the heavy snowfall and was hit badly by the adverse weather conditions brought by Storms Arwen and Barra. Northern Scotland and areas of higher ground in Scotland were predicted to see snow in the UK first, though northern England was also frequently forecast to have snow last year. The Midlands also had snowfall in late November, with the Leicester City football team's training ground one of the locations lightly blanketed.
Southern England didn't get nearly as much snow and people who live here were far more likely to have frost and bitterly cold temperatures and rain, rather than flurries. Similarly, whilst there were occasional predictions of snow over the hills and mountains of Wales, the country didn't experience huge snowfalls pre-Christmas.
Will it snow in London 2022?
Londoners rarely get to experience the joy of seeing a major blanketing of snow in the UK and so far 2022 has stuck to this well-established pattern of general snowless-ness. No snow is currently forecast to fall in the UK's capital over the coming weeks and although northern English cities like Leeds and Manchester had heavy snowfall in March 2022, only a light sprinkling was glimpsed in London on the 31st.
Whilst the countdown to Christmas 2021 saw very brief flurries of flakes in specific areas and none at all for others, likely leaving many snow enthusiasts living in the capital more than a little disappointed.
However, this isn't unsurprising for this time of year as the Met Office (opens in new tab) reports that statistically, the place that most often experiences snow in the UK is the Cairngorms in Scotland. Here there is an average of 76.2 days of snow or sleet falling, whilst in contrast, the possibility of seeing significant snowfall in London is much smaller.
According to World Atlas (opens in new tab), data from the Met Office has shown that the central parts of London actually experience less than 10 days of snow or sleet each year and that for these few days, the snow rarely settles.
The outskirts of London as well as areas with higher altitudes tend to get more snow, as the urban centre of the capital often has a higher temperature. This causes snow to melt more quickly and makes it unlikely that snowflakes will settle.
Between January and March, snow in the UK is also more common regardless of area so the idea of snow in the UK in November and December is also rarer anyway. Though in previous years, London has seen some seriously major early-year snowfall—after all, who could forget the Beast from the East in March 2018? This arctic snow storm blew in, leaving transport struggling to keep moving through the shocking conditions.
Now after many years of barely any settled snow, at the moment it's looking unlikely that 2022 will see a repeat of this level of snowfall in the UK's capital.
When does autumn start?
Despite the arrival of September often being considered by many to signal the end of the summer and the start of autumn, the official start of autumn was Friday, September 23rd - the same day as the autumn equinox 2022. Astronomical autumn begins on this date and, according to the Met Office (opens in new tab), is defined by the Earth's orbit around the Sun and as well as its axis. The astronomical autumn season for 2022 will last until Wednesday, December 21st 2022.
Though for anyone who prefers to go by the meteorological calendar which breaks each season down into equal blocks consisting of three months, September 1st did mark the start of autumn which covers September, October and November. At the time of the autumn equinox the days and nights will be roughly the same length until winter sees the nights become longer.
Autumn typically signals the return of colder temperatures which grow ever more bitter as winter sets in. As Brits bid farewell to the summer heatwave and prepare for the return of freezing temperatures, many will no doubt be hoping to see some more snow in the UK before 2022 is over...
Emma is a Senior Lifestyle Writer with six years of experience working in digital publishing. Her specialist areas including literature, the British Royal Family and knowing all there is to know about the latest TV shows on the BBC, ITV, Channel 4 and every streaming service out there. When she's not writing about the next unmissable show to add to your to-watch list or delving into royal protocol, you can find Emma cooking and watching yet more crime dramas.