When is it going to snow in the UK this year and where is it confirmed?
The snow in the UK isn't over yet as the countdown to Christmas brings more winter weather...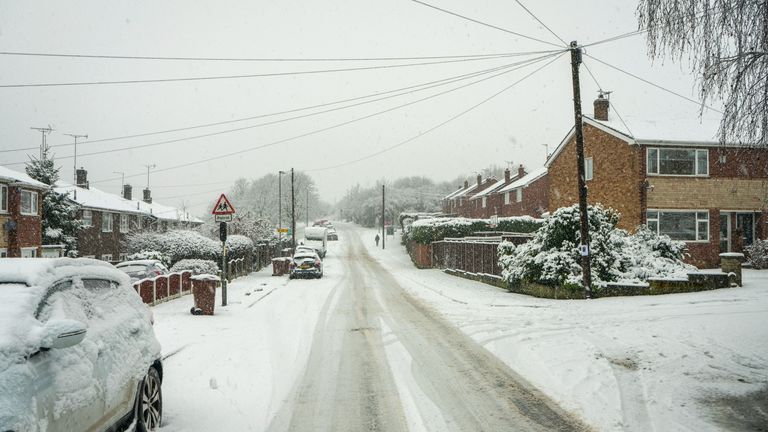 (Image credit: Chris McLoughlin via Getty)
By Emma Shacklock published
Snow in the UK is never easy to predict but after the recent flurries accompanying Storm Arwen, many people will be starting to wonder if this year will see the first White Christmas in over a decade.
Autumn has now definitely given way to winter and many of us have already begun to break out our best winter coats or added one of the best cashmere sweaters to our Christmas lists as the cold weather hits the UK. The first snow has blanketed huge areas of the country, with many places experiencing serious snowfall as well as terrifying winds as Storm Arwen arrived. Understandably the chance of seeing more snow before Christmas Day dawns varies depending on where you live. Though from snow to sleet and ice, it seems we're all set to experience arctic conditions as people start to speculate about a White Christmas.
But when is it going to snow in the UK and where is it confirmed? We reveal all you need to know about the snow that's predicted to keep on coming…
When is it going to snow in the UK this year and where?
According to the Met Office, those hoping for snow in the UK might have awoken to a light dusting outside as flurries fell overnight in parts of Wales and central and southern England, heralding the start of the Christmas countdown on December 1st. Meanwhile, things seem to have been wetter elsewhere, with wintry showers affecting parts of the north and east.
Speaking on the Met Office's 10 Day trend report, the first of meteorological winter, forecaster Alex Deakin shared that the first week of December will see the cold weather continue to affect large areas of the UK.
What does the weather have in store over the next 10 days? Find out with Alex Deakin. pic.twitter.com/IXfO5W7r14December 1, 2021
See more
He explained, "There'll be some wintery weather around, certainly for the rest of this week, with frost, ice in places and a little bit of snow likely too."
Alex went on to reveal that warmer air is on the way tied into weather fronts, bringing in moisture from the Atlantic, adding that the timing of the arrival of this weather front is "crucial". He suggested that if it arrives over the colder air "that could bring some sleet and snow in places down to lower levels" otherwise Brits could "mostly see rain".
"Certainly the potential for some sleet and snow on Thursday night and into Friday [December 2nd and December 3rd] and certainly likelihood of some icy conditions around in places", he went on to reveal.
And when it comes to just where Brits could expect to see snow in the UK, it seems that just like in recent days, it's Scotland and the north of England that could experience the flurries. This forecast comes days after Storm Arwen arrived, bringing winds of almost 100mph and reportedly claiming multiple lives, with a rare Met Office red weather warning issued for the north-east of the UK, stretching from Newcastle to beyond Aberdeen.
Now many people will be bringing out their best winter boots and warmest leggings in anticipation of potential snowfall again. As reported by The Independent, WXCharts have predicted snow could arrive first in the north of Scotland, whilst the north east of Scotland could also see snow showers.
The forecast has also suggested that a light covering of snow could even fall on the UK's highest mountain, Ben Nevis, ahead of the first weekend of December.
Will it snow anywhere else in the UK?
It seems that Scotland won't be the only place to experience more snow in the UK early on in December, with the Yorkshire moors and Welsh mountains also potentially in line to see some flurries over the coming days.
According to The Independent, Met Office spokesperson Grahame Madge told them that, "We have got snow showers feeding in overnight tonight onto the North Sea coasts, that may well result in transient snow fall along places like the Lincolnshire coast and the North York moors."
The publication went on to suggest that more sustained snowfall is predicted over the mountains in Wales, whilst brief flurries could arrive in the Peak District and Cotswolds.
And it might not stop there, as Express.co.uk reports that senior Netweather forecaster Jo Farrow has revealed there's set to be "blasts of cold Arctic air, milder interludes, frost and blustery winds and still the chance of more snow but it's mainly over the hills".
"It will be a cold day on Thursday with sleet and snow showers for the far north of Scotland, a few clipping north Norfolk, northern counties of Northern Ireland, down through the North Channel to the Isle of Man and over Wales, maybe reaching north Devon," she is understood to have declared.
The UK could also experience windy weather once again as the Met Office's Alex Deakin also predicted that the second week of December could see things getting "lively" weather-wise.
"Next week things could get lively," he disclosed. "There is the possibility - that's all it is at this stage - of a windy spell of weather and how that develops will dictate the type of weather we get for much of next week."
Meanwhile, the Met Office has also supposedly previously revealed that there is an above-average chance of the winter being wetter than normal between November-January. With this in mind, it seems Brits who're set to see more snow in the UK this month might have to enjoy it whilst they can, with hope of a white Christmas sadly looking increasingly unlikely.
How often does it snow in London and could it snow in the capital this year?
People living in the capital might be torn between wanting to enjoy beautiful snow in the UK and dreading the potential transport chaos it often causes. Some areas of London have already seen a light sprinkling of snow in recent days and now there are predictions that more could fall as we move further into December.
As reported by The Independent, forecasters have predicted that temperatures in the south of England could fall to below freezing, potentially bringing snow across the capital from Wednesday, December 1st. This was echoed by MyLondon, who've suggested that forecasters at AccuWeather have predicted from December 13th, temperatures in London could plummet to 9 degrees Celsius, with snow falling on this day.
Though this prediction won't be met with delight by everybody, others might embrace this opportunity to start decorating their best real Christmas tree and begin the Christmas countdown a little early, hoping for the perfect backdrop of white flurries falling past their windows.
If London is indeed one of the areas people will see snow in the UK this side of Christmas, this would be unusual, especially considering the time of year. The Met Office reports that statistically, the place that most often sees snow in the UK is the Cairngorms in Scotland, with an average of 76.2 days of snow or sleet falling.
However, the possibility of seeing significant snowfall in the capital is much smaller. According to World Atlas, data from the Met Office has shown that the central parts of London experience less than 10 days of snow or sleet each year and that for these few days, the snow rarely settles.
It's understood that the outskirts of London and areas with higher altitudes do get more snow during these days, as the urban centre of the capital often has a higher temperature than the surrounding areas, causing snow to melt more quickly there and making it more unlikely that snowflakes will settle.
Between January and March, snow in the UK is also more common regardless of area, as opposed to in the run-up to the Christmas period.
MyLondon has previously claimed that AccuWeather's long term forecast sadly predicts the UK will experience a wet Christmas, rather than a white one, with temperatures above freezing at between 6-8 degrees Celsius. However, they added that London could be set to get snow in early January and indicated there's a good chance of snow arriving on January 8th 2022 as temperatures drop.
London has also seen some seriously major early-year snowfall in recent years. After all, who could forget the Best from the East in March 2018? This arctic snow storm blew in from the East, leaving transport struggling to keep moving through the shocking conditions.
However, even if the forecasted snow doesn't quite make it this far south over the coming days, it seems there's hope for some snow in London in 2022.
Will it snow in the UK this Christmas?
The ultimate question many people might now be excitedly wondering is whether it will snow in the UK this Christmas. After spending the festive season in lockdown last year, for many people an elusive white Christmas would be the perfect way to add some extra magic into this year's celebrations.
And it might not be as far-fetched an idea as you think, as bookmaker William Hill has now released their white Christmas odds for 2021, looking at some of the country's major airports and how likely it is people near them might get to see snow in the UK on the big day.
According to these, Edinburgh and Glasgow Airports are currently tied as the favourites to experience snowy conditions on December 25th, with odds of 3/1 that a white Christmas will take place at these travel centers.
They are followed by Newcastle and Belfast Airports on 7/2, Leeds-Bradford Airport on 4/1, Liverpool with odds of 9/2. Leeds Bradford Airport's odds might not come as a surprise to many, given that this particular airport is the highest in the UK at more than 700ft above sea level. Meanwhile, Manchester Airport has odds of 5/1 for a white Christmas, Birmingham, Dublin and London City Airport are at 6/1 and Bristol and Cardiff are tied on odds of 7/1.
Traditionally the declaration of rarely-seen white Christmas in the UK needed a single snowflake to fall on the Met Office's London operations centre. Now, however, the announcement of a white Christmas will be made if a flake is seen falling in the 24 hour period of December 25th.
But this remains a seriously rare occurrence and the last widespread white Christmas was back in 2010, according to the Met Office. This was a stand-out year for snow in the UK, as there was not only snow on the ground at 83% of Met Office stations, but snow or sleet also fell at 19% of stations. Officially, the last white Christmas occurred back in 2017, with 11% of weather stations recording snow falling, though there were no reports of snow on the ground.
It seems that Christmas 2021 might also be snow free for many areas of the UK this year, though Brits better brace themselves for the coming winter conditions as the festive season draws nearer.
Emma is a Senior Lifestyle Writer with five years experience working in digital publishing, ranging from book publishing to magazines. She currently looks after all things Lifestyle for Woman&Home, GoodToKnow and My Imperfect Life.
Before she joined Future Publishing, Emma graduated from the University of Warwick with a Bachelor of Arts degree in English and Comparative Literary Studies. After leaving education, she started out her publishing career in the world of books, working as a Publisher for an independent digital publisher specializing in back-list and debut commercial fiction novels. With a huge book list and a passion for bringing the best stories to the broadest audience possible, Emma filled her spare time with reading the latest best-sellers and catching up on hit adaptations.
In 2017 she joined TI Media as a fiction writing coordinator on Woman's Weekly and Woman's Weekly Fiction as part of the features team. From here, she used her love of books, working to bring short stories to our dedicated readers and began writing for the books pages of Woman, Woman's Own and Woman&Home, as well as online features ranging from genre round-ups to travel pieces for womanandhome.com.
After honing her skills, Emma branched out online in 2020 when Future gave her the opportunity to focus on digital-first. When she's not writing about the next big lifestyle trend, she enjoys cooking, long walks and watching as many crime dramas as she can!