Nominate a community hero at our Amazing Women Awards 2021
Here's your chance to nominate an amazing woman you know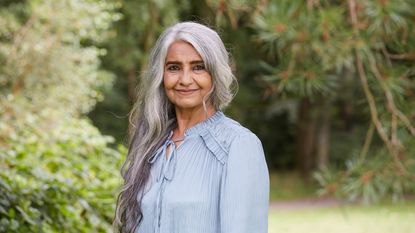 (Image credit: Anne Marie Bickerton/Elaine Wood)
Do you know an amazing woman? Well here's your chance to nominate her for a Community Hero award as part of our Amazing Women Awards for 2021.
We're thrilled to launch our search for the Amazing Women Awards 2021. It's 
a chance to discover and celebrate the incredible women aged 50 and above who make a difference to the lives of so many others.
From business leaders and celebrities to community heroes, we love hearing their stories.
We will be presenting five regional reader-nominated awards, so tell 
us about your amazing friend, sister, colleague or acquaintance who deserves a shout-out.
In a year that has been so challenging, it's a wonderful opportunity for you to shine a light on the unsung heroines in your lives and communities.
To give you an idea of the sort of women we're looking for, here's a reminder.
• Tanya Jones (above) has dedicated her time to providing activities that reduce social isolation 
and loneliness.
• Manjulika Singh, MBE, has improved countless lives by promoting yoga for health and community cohesion.
• Adele Sewell, turned her own battle against ovarian cancer into an opportunity to fundraise for other women affected by the disease.
• Naomi Sesay promotes diversity and inclusivity to widen equal opportunity.
• Louise Hill created an app to help young people manage their money.
• Diana Porter, MBE, founded a charity that supports children who have been sexually abused.
• Sandra Link launched a social supermarket for people who are homeless and living in extreme poverty.
• Jane Howorth, MBE, has saved the lives of more than 750,000 hens.
• Kate Humble is ambassador of the international conservation charity, ZSL.
• Kanya King, CBE (below), is the founder and CEO of MOBO, which champions black music and culture.
Amazing Women Awards 2021
As well as the Community Hero Awards for your region, we will also be featuring the following 
five categories nominated and voted for by our w&h panel of judges.
Brand New Directions: Brilliant entrepreneurs leading the way.
Smashing The Glass Ceiling: 50+ role models who are at the top of corporate environments.
Changing Our Country: Women in high places dedicated to making our lives – and the lives of others – better.
Don't Tell Me I Can't: Women having exciting adventures and fulfilling their dreams.

Celebrities Doing Good: Stars of stage and screen who also do great work for charity.
Know someone who deserves a Community 
Hero award?
We want to celebrate the amazing women in your communities. They might be caring for others, protecting our countryside or animals, 
or going the extra mile for charity.
Whether it's your friend, a relation, your co-worker or your boss, these are the women who make our world a better place.
Last year, we celebrated our winners with a brilliant series of (socially distanced) photoshoots. And over the coming months at w&h, we will reveal our shortlists.
We're looking for three nominees from each of the following five regions, who will be nominated and voted for by readers.
1. Scotland and Northern Ireland
2. North East, North West and Yorkshire
3. Wales and West Midlands
4. East Midlands and East Anglia
5. South West and South East
To nominate an amazing woman for a Community Hero award, simply ask your nominee for permission and a photo of themselves. Send us the pic and tell us in 250 words or less 
why they deserve to win. Enter by the closing date on 30 April 2021.
Sharon has worked in lifestyle magazines for many years and is passionate about sharing information, whether that's about great places to discover, books to read, performing arts, or how to live a greener life. She has written for The Guardian and BBC Homes and Antiques, interviewed authors such as Isabelle Allende, and was a contributing editor to The Beekeeper's Bible.