BBC axing Victoria Derbyshire shows discrimination against women is still present in the organisation
The Victoria Derbyshire Show is lifeline for the everyday woman, with a progressive, female-led team - so why are the BBC shutting it down?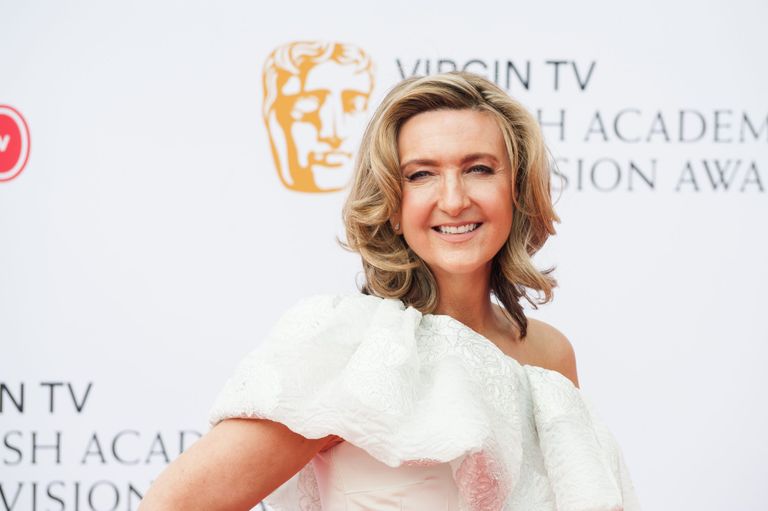 (Image credit: Getty Images)
When the news broke 22nd January that The Victoria Derbyshire Show is soon to be axed, the presenter declared on Twitter she was "absolutely devastated" - and her words were quickly echoed by voices across the country.
The BBC's official statement attributed the show's cancellation to budget reductions, but some feel that the decision could be rooted in institutionalised sexism. Sexist or not, there's no doubt that this is sad news for marginalised people everywhere - especially women.
Could the BBC's decision be sexist?
The BBC is no stranger to criticism when it comes to gender equality. When legislation was introduced in 2017 that all companies with 250 employees or more be transparent regarding gender pay gaps, according The Equality Act 2010, disparities were exposed. It was revealed that men working for the BBC earn an average of 9.3% more than women; Director General Tony Hall himself admitted in June last year there is still "more to do".
Samir Ahmed's recent lawsuit against the BBC makes for uncomfortable reading. In the landmark equal pay case, the Points of View presenter claimed she was paid 85% less than Newsnight presenter Jeremy Vine. During the tribunal, Samir asked why the BBC, "thinks I am worth only a sixth of the value of the work of a man for doing a similar job". And now, fans of The Victoria Derbyshire Show feel that the BBC's recent decision to axe it is another example of unacceptable sexism. Yes, cuts must be made, but why are successful female-led shows such as this one taking the hit?
The very fact that Victoria found out her namesake show - which she had pioneered since its beginnings in 2015 - was to be discontinued by reading about it in a newspaper smacks of disrespect. Fran Unsworth, Director of News & Current Affairs at the BBC, has since reportedly apologised for 'the way it emerged', but it may be a case of too little, too late.
Budget reductions is the official justification behind the BBC show's axing, but the decision to cut one of the country's leading female presenters - whose team are already demonstrating the progressive, story-led journalism the BBC themselves have deemed a priority - seems nonsensical to fans.
'If BBC really are axing Victoria Derbyshire, I'm furious...an award winning show that reaches digital audiences with endless scoops and important journalism...What, exactly, does a woman have to do to get the recognition she deserves at the BBC???' wrote journalist Marisa Bate.
'I have no idea how much the Victoria Derbyshire show costs but cancelling it when the BBC still see fit to pay Lineker, Shearer and Wright a combined £2.5million a season to pad out a football highlights package suggests, to me, some questionable priorities,' argued one fan of the show.
Another responded to the news with, 'Would absolutely love to watch Fran Unsworth attempt to justify why Marr's one hour of tame interviews a week is more worthwhile than Victoria Derbyshire doing a better version five times a week for half the wages…'
While a member of Victoria's team told us explicitly the BBC's decision wasn't "rooted in sexism", many have been left bewildered as to the reasoning being it. Yes, the BBC say the cost of running a linear programme was deemed 'too high', but when Victoria herself stated, 'we were NEVER asked to grow our linear audience', but instead, increase digital figures (which they did), this justification becomes problematic. "Our successful digital figures appear to be an inconvenience to those making the decisions," Victoria remarked.
Other outlets to be hit by job closures include BBC Two's Newsnight, BBC Radio 5 Live and the World Update programme on the World Service, moving away from 'traditional broadcasting' and towards digital.
Could unconscious bias against women be present here?
"The simple answer is YES," says Rina Goldenberg Lych, founder of Voice At The Table, a gender diversity and inclusion consultancy. "All humans are biased – men, women, and everything in between. But when it gets in the way of making good decisions, that's when we need to be aware of it and take it into account so that we can mitigate it.
"People are likely to cut those who are not 'similar' to them and there can be a 'pack mentality' or rather, 'echo chambers' [a term referring to opinions and convictions that are spread through continuous communication among those who share the same thoughts in a closed system].
"Often, unconscious bias in the system tips the scales of career progression against women. This is often because our unconscious views of what a leader must be like often jars with female traits and behaviours."
Why cancelling The Victoria Derbyshire Show is bad for women
Whether the cancellation demonstrates institutionalised sexism or not, axing a show that champions ordinary people, made for the everyday woman, is a great loss for everyone, but especially women.
The Victoria Derbyshire show was tasked in 2015 with reaching a new, digital audience, and with the average age of a BBC viewer topping 60, the need for a broader appeal was long overdue. Victoria and her team delivered on this spectacularly, attracting a highly-engaged female demographic that were otherwise underserved by the BBC.
"BBC news is traditionally seen as serving white, middle-class men primarily. BBC are trying really hard to reach younger audiences and audiences that don't really engage, however to us it feels like they are taking away the one programme that was achieving that," a member of The Victoria Derbyshire's team told woman&home. "We commission stories that really matter, that wouldn't be commissioned in the BBC structure otherwise. People, time and time again, have said; 'you have given us a voice'."
The show is one of a kind; a platform for the underrepresented, giving exposure to issues that don't make it to mainstream media. Victoria's show tackled menopause taboos, helped break the silence around male rape and in many instances was able to bring about real political change. Kath Sampson, who appeared on the show to drum up support for Sling The Mesh (opens in new tab), a campaign helping women affected by the Vaginal Mesh Scandal, was able to gain huge amounts of support as a result of her appearance. She said, "Being on the show gave the mesh campaign credibility and a huge publicity boost, which bolstered political support for those suffering. 18 months later, Jeremy Hunt ordered a review into vaginal mesh. Every time the show airs we get new people wanting to join, connecting their pain to a previous mesh surgery."
Victoria's show provides a lifeline to the ordinary, everyday woman, led by a vibrant, largely-female team, who are smashing ratings - 12.5 million digital figures a month - and scooping up awards - on 30th January Victoria was nominated for her fifth RTS News Presenter of the Year award - in a male-dominated industry. 'I'm gutted particularly for our brilliant, young, ambitious, talented team – love 'em. And for all those people we gave a voice to. Love them too,' Victoria tweeted upon hearing the news.
MORE:On Equal Pay Day, report states that women in low income industries still earn 25% less than men
Not only does Victoria's show give the vulnerable a voice, it also creates a safe space for them to tell their story. "Victoria is kind and respectful to her guests, as you would expect a presenter to be," said Beryl Collins, who appeared on The Victoria Derbyshire Show the day the axing was announced. Beryl lost her son, Tony Collins, to suicide and her appearance on the show helped fuel her fight against the clinical negligence he suffered. "I'm disgusted and devastated that such an important show is being axed. Who will tell our stories, stories of everyday people, now?"
"I'm really disappointed," Beryl and Mike Collins' solicitor at Girlings Personal Injury, Shantala Carr, who appeared alongside the family on the show, told woman&home. "I was about to enter further discussions with Victoria about other cases I have settled to raise awareness of mental health failings. She was able to give my clients a voice and I worry we won't be able to raise the same awareness now. It feels like a real step back."
"The trust in the programme will be lost," concluded a member of Victoria's team. "Our viewers will no longer have a home."
The reactions to the cancellation so far
A very public cry of outrage followed the announcement, made by the BBC's media editor, Amol Rajan, on 22 January. Rajan said the show will be taken off air as part of £80M worth of spending cuts. Social media feeds were flooded with angry voices, expressing a general disbelief over the decision.
On January 23rd, a day after the news was announced, a petition was started to save the show. "The moment I saw the news reports that the show was being axed I felt I had to do something right away," said Katie Kendrick, who appeared on the show to raise awareness about leaseholders trapped in the Leasehold Scandal. "The response has been incredible. It's only been running for a week and we have over 55K signatures - this shows how important the show is to many. Axing a show the gives a voice to the voiceless is NOT in the public interest."
Tracy Brabin, Shadow Secretary of State for the Department of Digital, Culture, Media and Sport, wrote a letter to the BBC, asking them to "rethink and reverse" the decision.
Jack Monroe's, whose partner Louise Compton was a former editor on The Victoria Derbyshire Show, powerful article for the New Statesman (opens in new tab) summed up why the axing is such a loss for us all, but especially women. 'It wasn't created for the Westminster bubble, or the chattering classes, but for the ordinary, working-class women across the UK,' she wrote.
It's safe to say, the response to the news speaks volumes about how important The Victoria Derbyshire Show is to its viewers. "Even the BBC bosses have acknowledged the backlash', a team member of Victoria's team told us. "it's gone beyond what they would have expected. Hopefully it has made them realise just how important this kind of journalism is."
When the cancellation comes into effect
Director of News and Current Affairs Fran Unsworth announced a series of cuts on Wednesday, which included the closure of the Victoria Derbyshire programme and a reduction in the number of films produced by Newsnight. It's unclear currently when exactly these changes will come into effect.
How you can try to stop the Victoria Derbyshire Show being cancelled
If you want to save The Victoria Derbyshire Show, you can make your voice heard by signing the petition here (opens in new tab).
'Victoria Derbyshire has given a voice to so many, now is the time to have your voices collectively heard,' writes Katie.
Lauren is the former Deputy Digital Editor at woman&home and became a journalist mainly because she enjoys being nosy. With a background in features journalism, Lauren worked on the woman&home brand for four years before going freelance. Before woman&home Lauren worked across a variety of women's lifestyle titles, including GoodTo, Woman's Own, and Woman magazine.