Tuning into our five senses can help productivity levels, claims expert
Finding working from home difficult? Life coach Carole Ann Rice shares her tips for the hybrid way of working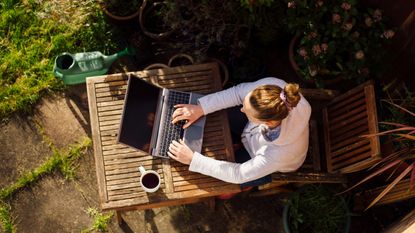 (Image credit: Getty)
Some of us have been working from home for over a year, and even though freedom day is upon us, most of us will be changing how we work.
Now a life coach has revealed that in order to stay focused and be productive if we want to adapt to the hybrid way of working, the key is to tune into our five senses regularly throughout the day and allow ourselves 10 minutes to meditate.
Samsung Life coach, Carole Ann Rice also says self-care, especially when working from home, should be a priority, "Radical self-care pays dividends. It is not selfish to want time out to do things that support and nourish you as we cannot pour from an empty cup."
---
Read more from woman&home:
• Best travel pillows for every kind of trip and sleeper
• Best scented candles for a gorgeous-smelling home
• Best Kindles for digital book lovers – we help you decide which one to buy
---
The pandemic has changed how we all work, and according to a report from the CIPD 40% of employers said they expect more than half their workforce to work regularly from home after it has ended.
But how do we navigate this new change? Carole Anne Rice believes we need to be more present in our everyday lives: "Often, we are on autopilot not even noticing the environment around us or even remembering what we ate for lunch.
"By tuning into our five senses, wherever we are, immediately grounded in the here and now, which can be extremely helpful when feeling overwhelmed with our workloads and needing a moment to rebalance so we can stay productive."
Carole Anne says we need to regularly remember to mindfully notice our different senses and ask ourselves questions such as: "What can you see when you look up? What can you hear when you focus? What can you smell? What are you touching? How do you feel?"
Carole Anne also recommends taking regular 10-minute breaks, "Meditation is also a powerful tool for staying calm and productive but quite often we find it hard to find the right time or place. Instead try the 10-minute break as part of your daily rituals before, during or after work.
"Simply stare out of the window or sit on a park bench and just notice your thoughts but don't invest in them or attach. See them as a conveyor belt as all the whirling data drifts by like clouds."
And although some of us spent more time outdoors during the start of the pandemic, many of us are finding it hard to fit it into our routines. However, Carole Anne says being outside can have huge benefits for productivity and our wellbeing: "Being in green surroundings can lower blood pressure, improve heart health and reduce cortisol levels so you feel less stressed."
"This doesn't just have to be a quick lunchtime park visit, thanks to modern technology, such as Samsung's new Galaxy Book LTE, which is lightweight and has 4G embedded in it, you can now set up your remote desk from the great outdoors."
An outdoor office, especially in this heatwave, sounds like the perfect way to appreciate working from home.
Sarah is a freelance journalist - writing about the royals and celebrities for Woman & Home, fitness and beauty for the Evening Standard and how the world of work has changed due to the pandemic for the BBC.
She also covers a variety of other subjects and loves interviewing leaders and innovators in the beauty, travel and wellness worlds for numerous UK and overseas publications.
As a journalist, she has written thousands of profile pieces - interviewing CEOs, real-life case studies and celebrities - interviewing everyone from Emma Bunton to the founder of Headspace.