The woman who solves murders: a forensic scientist gives us an insight into her daily life
We're all gripped by CSI and Silent Witness, but what is it really like to be a forensic scientist working on the worst imaginable crimes? One of the profession's leading lights, Professor Angela Gallop, explains...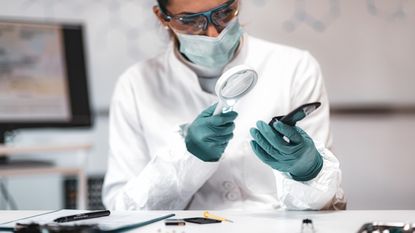 woman&home newsletter
Sign up to our free daily email for the latest royal and entertainment news, interesting opinion, expert advice on styling and beauty trends, and no-nonsense guides to the health and wellness questions you want answered.
Thank you for signing up to Woman & Home. You will receive a verification email shortly.
There was a problem. Please refresh the page and try again.
As a young girl growing up in Oxford, Angela Gallop spent her time poring over crime reports in the Sunday papers her father brought home.
Today she is Professor Angela Gallop, CBE – a top forensic scientist, responsible for helping to solve a slew of headline- grabbing murders, including Stephen Lawrence and Rachel Nickell. She's called in to work on cold cases worldwide and sits on boards that advise foreign countries how to tackle unsolved crimes. Despite making her mark in what was a hugely male- dominated line of work, few people have ever heard of her.
That's about to change as her new book, When the Dogs Don't Bark, reveals the fascinating journey she made to becoming one of the first female forensic scientists.
Professor Gallop fell into a career in forensic science by chance. After studying Botany at the University of Sheffield, she returned to Oxford to study a DPhil in Biochemistry, specialising in a project examining sea slugs on the Isle of Wight.
"I realised I wanted a more immediate audience for my efforts, and one day a friend of mine showed me an interesting advert in the paper for the Forensic Science Service – it was a job in Harrogate."
Angela joined in 1974 aged 24, at a time when murder investigations were not considered suitable for young women. "When I first started out, my boss kept on making allusions to me going home and doing the washing-up. He didn't think forensic science was a job women should be doing. He soon changed his mind though," she says, with a steely laugh.
Along the way, she married, divorced, married again and had a son who is not, she says, going to follow her into forensic science.
From an unlikely location, a converted barn near Abingdon in Oxfordshire, Angela Gallop now runs Axiom International – global specialists in integrating forensic science, police, criminal justice and national security services. It's a tightly run outfit, bustling with a range of experts who are drafted in and out, depending on whether the job is examining cold cases or helping the criminal justice system.
"People come to us from around the world for help with their forensic services," Angela says. She has recently worked in Somaliland and Kosovo. She's keen to point out that forensic science isn't a one-person job. "We can't do anything alone," she insists. "Solving crime scenes takes the work and expertise of many people, not just me."
Angela has worked on just about every high-pro le case you can think of – Damilola Taylor, the Cardi Three and the Coastal Path murders, among others. One of her notable successes in private practice was proving that Italian banker Roberto Calvi, famously found hanging beneath Blackfriars Bridge in London in 1982, had been murdered and hadn't, as thought, taken his own life.
Gallop made a reconstruction – the scaffolding that Calvi was hanged from was assembled again, and a man of Calvi's height and weight climbed along it. Pressure from such weight would have left rust on Calvi's shoes, but forensic research found no rust stuck to his footwear.
Gallop says her painstaking work on that case brought home the power of forensic science "to sort things out for people". She explains: "It was his family who commissioned the work because they couldn't believe he would have committed suicide."
But her very first notable case was when she was called to the murder of an 18-year-old woman in Huddersfield on a bitterly cold night in February 1978.
"I hadn't expected to be called out so I was wearing oversized clothes that belonged to my boss, walking through a muddy area with massive boots until we came to the murder scene – the victim was a young woman, obviously beautiful and it was pretty horrific.
"I was worried that I'd faint or throw up but I had to be professional. I owe it to everyone else who works on a case, and to those people who have been killed, to do the best job I can."
The girl turned out to be Helen Rytka, who had been killed by Peter Sutcliffe, the Yorkshire Ripper. "Although it was a horrible scene, Helen looked very serene," she says. "In fact, all dead bodies look serene."
The intervening years and what she has seen have left their mark on her view of humanity. When asked if she is ever surprised at the lengths people go to in order to commit a crime, she says simply, "I don't think anything surprises me now."
Her book is a fascinating read and inevitably grisly in parts. In it she details the hours spent analysing tiny specks of dried blood on an infinitesimal amount of cloth, which is how she nailed the Stephen Lawrence killers years after the murder had been committed. And she describes re-examining the swabs from Rachel Nickell's body, which revealed previously missed DNA belonging to Robert Napper. He pleaded guilty to manslaughter on the grounds of diminished responsibility.
Yet despite the grim nature of her job, Angela Gallop laughs a lot.
"I do find lots of things funny," she says, "and I'm an optimist. I am really fortunate to be doing a job I feel absolutely passionate about. I think that is so important. I get up every day and feel excited. I don't think you can do this job if you take it home with you. I know I see things that other people might find horrific, but I don't do this job alone," she explains.
"Everyone expects the world of forensic science to be something like a television drama, but it isn't like that really. It's very, very laborious and rather boring if you were to watch us work. But then you'll find that little shred, that tiny little bit of something and..." Her face lights up. "That's when I know I'm onto something. When I find that out – well, it's that light-bulb moment and it feels like the most exciting thing to ever have happened. That's why I do it."
When the Dogs Don't Bark by Professor Angela Gallop, (Hodder), is out now in hardback, £20.
10 things you only know if you're a forensic scientist...
Despite what might be suggested in some crime fiction, murder victims look peaceful, not terrified.
One of the most interesting principles underlying any forensic investigation is Locard's Exchange Principle, which can be summarised as "every contact leaves a trace". Coined in 1910 by the French criminologist Dr Edmond Locard, the only variable is whether or not you found the trace that has been left.
One day spent at a crime scene can save two weeks of working in the laboratory.
You can gauge the time of death by looking at the stage of development of specific types of insects, maggots or eggs found on the corpse. A forensic entomologist can also sometimes identify from the species of insects present if a body has been moved after death.
However gifted an individual scientist might be, forensic science depends on teamwork.
Evidence forms patterns; if it doesn't, you need to ask why.
In a town with a population of 200,000, there would be approximately 8,000 people with a matching combination of blood groups, from whom blood could technically have come.
Forensic science done badly is worse than no forensic science at all.
The job involves spending long hours in the laboratory or in difficult environments, such as outdoor crime scenes.
When you think you see the bodies moving, you know it's time to go home.
Sign up to our free daily email for the latest royal and entertainment news, interesting opinion, expert advice on styling and beauty trends, and no-nonsense guides to the health and wellness questions you want answered.
Lauren is the former Deputy Digital Editor at woman&home and became a journalist mainly because she enjoys being nosy. With a background in features journalism, Lauren worked on the woman&home brand for four years before going freelance. Before woman&home Lauren worked across a variety of women's lifestyle titles, including GoodTo, Woman's Own, and Woman magazine.