The TikTok and Instagram 'foodfluencers' who will change the way you cook
Writer Georgina Fuller explores the phenomenon of TikTok foodfluencers and why midlife women are shunning their trusty Jamie Oliver and Delia Smith cookbooks...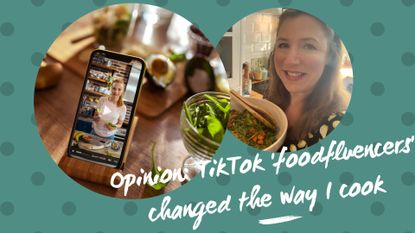 (Image credit: Future / Georgina Fuller)
When I was a child, the start of Christmas was signified by my mum bringing out her battered and spattered Delia Smith cookbook. She would always do the braised red cabbage and apple recipe first and the fragrant aroma of cinnamon would fill the kitchen.
Over the years, I followed a similar trajectory and still use my mum's Delia book every Christmas. The dinner parties of my early 20s, when I had my first flat in London, usually revolved around Jamie Oliver's cod and pancetta or Nigel Slater's lemon posset and my 30s followed a similar pattern (with Bill Grainger and Rose Prince making an appearance.)
That has all changed in recent years though with 40-something mums like me looking to TikTok and Instagram for foodspiration instead of their best cook books.
My first exposure to the platform came recently when I went along to a family gathering where we all brought along a dish. One of my sister-in-laws had made a delicious kale and walnut salad but, instead of sending me the recipe, she tagged me on TikTok. It was a 'hungry lady salad' from Kat_Can_Cook who has 1.9m followers on TikTok and 228k followers on Instagram.
It has opened my eyes to a whole new world of 'foodfluencers.' I know it's probably nothing new and that Delicious Ella and her energy balls have been winning vegan millennials over for a decade but I think what's changed is that these new foodfluencers are mid-life women like me and aimed at busy mums.
I've been following a few cooks on Instagram for several years but TikTok is my new obsession.
The 'hungry lady salads' from Kathleen Ashmore (aka Kat Can Cook who, ironically, has just got a publishing deal for her first cookbook) are my favorite. Kat describes herself as 'that mom friend you ask for healthy recipes'. They take me back to the chopped salad I had in Chelsea Market in New York when I went there for my 40th. The recipes are easy to follow and one ingredient can easily be substituted for another. Since discovering it, I've made the green goddess chicken salad lots of times - the Nutribullet has never seen so much action.
Then there's @the_pastaqueen, aka Nadia Caterina Munno, an Italian who now lives in the US and who has 2.3m followers on TikTok. Nadia says 'life is made up of magic and pasta' and, after making some of her dishes, I'd have to agree. She spices up staples with a few quirky extras, a splash of vodka or ground pistachios. She has revamped Sofia Loren's favorite lemon pasta with a bit of cream. The 35-year-old chef has even been a guest on The Drew Barrymore Show.
So, why are so many midlife women turning to TikTok for recipes?
Despite often having a reputation as being a younger person's platform, around one in ten (9.3%) of the 3.7 million UK TikTok users are aged between 35-44 while 6% are aged 44-55, a recent report by Social Films showed. An estimated six in ten TikTok users are women and around one in five (20.3%) users in the US are aged 40-49 according to a survey by Statista. I chatted to some users who explained why they've put down their cookbooks in favor of the platform.
Martha Cooke, a 40-year-old mum of three who regularly makes recipes from TikTok says it's all about convenience. "If I'm scrolling and see a recipe I'm confident enough to cook, I can re-create it in my head or substitute it with whatever I've got in. It's always easier seeing the helpful step-by-step reels too. I click that little Instagram save button and it's there for when I need it."
Author and podcaster Alison Perry, who has three children including twins, is a big fan of Taming Twins, aka Sarah Barnes, a 40-year-old mum of twins who has over 202k followers on TikTok.
"I really like her slow cooker recipes - they're the ultimate in "chuck it all in" ease. She doesn't make you brown the meat for example. Her recipes are great for time-poor parents - she is a mum of twins herself so she knows what it's like to be juggling a million things and still want to produce a tasty dinner," Perry says.
Digging out a recipe book is, says Perry, too much of a faff. "I always just search the Taming Twins social media and blog instead."
Perry's current go-tos are enchiladas, beef curry and the feta and tomato slow cooker pasta. "I also love the no-bake Malteser rocky road and her Nutella brownies. Great to make with the kids!" she says.
Meet the midlife foodfluencers
Whether on Instagram or TikTok, one thing is clear: short-form video content is an ideal format for sharing recipes. And the lure behind the platforms is the same - people want authenticity and clear visual guides about what to make. I chatted with some midlife foodfluencers to hear what they think about their success.
Alex Hollywood, a 50-something-year-old food writer from Kent with over 21.1k Instagram followers, says the way mid-life women look for inspiration has changed, especially since the pandemic. "My followers definitely went up over lockdown when my recipes became what I call more of a chop and a chat. It became more about engagement."
People want authenticity rather than patronizing perfection, Hollywood says, and to see the person behind the plates.
One of the great things about social media is that it has given mid-life women a platform. "It's given women like me, who were primarily known for being a wife (Alex's ex-husband is TV chef Paul Hollywood) and mother, a voice. It's given us a chance to express ourselves and build a community of like-minded women," Hollywood says.
Ellen Manning, a 39-year-old food blogger who runs @eatwithellen and has over 7k followers, says it's become less about writing and more about the visual aspect. "First, Instagram with gorgeous pictures of food and now reels where everything is about video content. It's a shame in some ways because as a writer I've always loved trying to bring things to life through words but I understand why people love the easily accessible visual elements."
Miranda Gore Browne, who was a finalist on the BBC's Great British Bake Off and has 5.2k followers on Instagram, says her kids helped set her up on TikTok and that she's been surprised by how quickly it's taken off. 'Some of my recipes, like the chocolate sourdough, have been incredibly popular and it's become a lifestyle thing."
So look out Nigella, Jamie and Mary, instead of picking up your cookbooks, we might just turn to our phones instead. But I'll still be bringing out Delia's Christmas book this December.
Georgina Fuller is a freelance journalist, editor and media consultant. She has written for everyone from Take A Break to Tatler, but specializes in writing about family, women and lifestyle. She writes regularly for The Daily Telegraph, The Guardian and Grazia and has a monthly column in her local paper, The Stratford Herald. She has also appeared on the BBC, ITV and Channel 4 and BBC Radio 2.