The Queen's Jubilee history: A look back at the monarch's milestones ahead of the Platinum Jubilee
As the Platinum Jubilee draws nearer we delve into the Queen's Jubilee history which paved the way for this huge moment...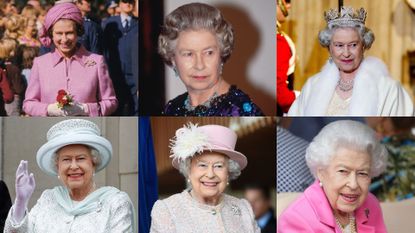 (Image credit: Future// Images left-right, top-bottom, Image 1: Photo by Serge Lemoine/Hulton Archive/Getty Images // Image 2: Photo by Tim Graham Photo Library via Getty Images // Image 3: Photo by Tim Graham Picture Library/Getty Images // Image 4: Photo by Stefan Wermuth - WPA Pool/Getty Images // Image 5: Photo by Stuart C. Wilson/Getty Images // Image 6: Photo by James Whatling - WPA Pool/Getty Images)
woman&home newsletter
Sign up to our free daily email for the latest royal and entertainment news, interesting opinion, expert advice on styling and beauty trends, and no-nonsense guides to the health and wellness questions you want answered.
Thank you for signing up to . You will receive a verification email shortly.
There was a problem. Please refresh the page and try again.
The Queen's Jubilee history has seen her mark many extraordinary milestones and as her Platinum Jubilee approaches, we're looking back at the celebrations that have gone before.
Having been the monarch for as long as many people can remember, some fans might well be wondering how long has the Queen reigned as we prepare to mark her latest milestone. The answer of course is 70 years and Queen Elizabeth II has now become the first British monarch to celebrate a Platinum Jubilee. But whilst the upcoming bank holiday events featuring Her Majesty and members of her extended Royal Family are a source of huge excitement to many, it's only the newest of several of the Queen's Jubilee celebrations.
Here we we reveal what a Jubilee is and look back at the Queen's Jubilee history and how she's marked reaching these major moments…
What is a Jubilee?
A royal Jubilee is a celebration of the life and reign of a particular monarch, in this case Britain's Queen Elizabeth II. They mark huge milestones and have a distinct name which corresponds to the certain length of time the monarch has reigned. For example, a Silver Jubilee is 25 years, Ruby is 40, Golden is 50, Diamond is 60, Sapphire is 65 and Platinum is 70.
The Queen's Jubilee history in pictures
Silver Jubilee of Queen Elizabeth in 1977
The first Queen's Jubilee was marked in 1977 when she had then reigned for just 25 years. This momentous anniversary was celebrated with a packed schedule of engagements that summer after she marked her official Accession Day in February at Windsor Castle with her family. For her first Jubilee the Queen had one mission: to meet as many people as possible!
Setting out on a large-scale tour, according to the Royal Family's official website (opens in new tab), no other monarch had ever visited so much of the country in just three months. Always up there as one of the most hard working royals, Her Majesty undertook six Silver Jubilee tours in Britain and Northern Ireland, covering an astonishing 36 counties.
And it wasn't just within the UK that the Queen's jubilee celebrations honored this huge occasion. She and the Duke of Edinburgh set off throughout the year and traveled a staggering 56,000 miles as they visited Australia, New Zealand, Tasmania, Western Samoa, Tonga, Fiji, Papua New Guinea, Canada and the West Indies.
The Queen's Silver Jubilee was brought to an awe-inspiring close in June, 1977 when the Queen lit a beacon at Windsor Castle. This then started off a chain of beacons being lit across the country and Her Majesty then drove in the Gold State Carriage to St Paul's Cathedral the next day for a special Service of Thanksgiving.
She was then accompanied by fellow royals to lunch at the Guildhall. At the lunch the monarch made an impassioned speech she reiterated that she did not "regret or retract one word" of the pledge she made when she became Queen to serve the people.
It's estimated that around 500 million tuned in to watch the Jubilee procession return down the Mall and the Queen made several appearances on the Buckingham Palace balcony. For the final event, the Queen took to the river for a progress from Greenwich to Lambeth that echoed the barge trips of the first ever British Queen Regnant, Queen Elizabeth I.
The Queen opened the Silver Jubilee Walkway and the new South Bank Jubilee Gardens and there was then a firework display, and a procession of lighted carriages to take her back to the Palace. In honor of her first major milestone, the Queen's Silver Jubilee Appeal was set up to help raise funds to support young people as well as to encourage them to serve others in the community.
---
Ruby Jubilee of Queen Elizabeth in 1992
Whilst many might not immediately think of a Ruby Jubilee when we think back to those celebrated by Queen Elizabeth II, as the longest-reigning monarch in British history, she technically has had a Ruby Jubilee too. This marks 40 years of a monarch's reign which the Queen reached back in 1992. Sadly, this wasn't one of Her Majesty's favorite years and 1992 was described by her as her "Annus Horribilis" or "Horrible Year" in a speech.
Not only did a fire break out at Windsor Castle, but three of the Queen's children's marriages ended in separation that year. The Queen also didn't celebrate her Ruby Jubilee with widespread events as she has done with other major milestones.
Instead, the Ruby Jubilee was a more low-key affair and as reported by The Independent (opens in new tab), only a few select events took place, including a lunch at the Guildhall. This is believed to have been organized by the City of London Corporation and took place that November, with a tribute at the Fountain Court of Hampton Court Palace and a banquet in July.
Meanwhile in October the Royal Anniversary Trust held The Grand Event which was televised and saw the likes of Sir Cliff Richard and Dame Vera Lynn perform.
---
Golden Jubilee of Queen Elizabeth in 2002
By the time the Queen's Golden Jubilee year began in 2002 it's no surprise that the Royal Family returned to having an exciting and pretty extensive programme of events to honor her 50 years on the throne. For this particular one of the Queen's jubilees there were six themes ranging from celebration to community and service, as well as past and future, giving thanks and the Commonwealth. In keeping with this final theme, Her Majesty and Prince Philip once again jetted off around the world.
The royal couple toured throughout the year, traveling to Jamaica, Australia, Canada and New Zealand as well as every UK region, including islands such as the Isle of Skye. The Queen and the Duke of Edinburgh were also hosted by the Prime Minister at Number 10 Downing Street for a dinner and the monarch addressed the Joint Houses of the Houses of Parliament at Westminster Hall.
As with other major royal Jubilees, the main focus of the Golden Jubilee was a central weekend in June, when the Queen traditionally celebrates her official birthday. This began with a moving classical moving concert in the Buckingham Palace gardens and there was another Service of Thanksgiving at St Paul's Cathedral as well as a Ceremonial Procession from the Queen's London residence.
Recently it's been claimed that the Queen snubs traditional British music and enjoys a slightly edgier genre and there was certainly something to please everyone at the Golden Jubilee Concert held that summer. Performers included Sir Elton John, Dame Shirley Bassey, Sir Paul McCartney and Bryan Adams.
The National Beacon was once again lit after the evening drew to a close with a magnificent fireworks display, following on from 2,006 beacons in a chain across the entire Commonwealth. And it might come as no surprise to fans that Her Majesty once again delivered a poignant speech at this pivotal moment in her reign.
"I would like to give my heartfelt thanks to each and every one of you", she said During a lunch at Guildhall on 4 June, before going on to add, "Thank you all for your enthusiasm to mark and celebrate these past fifty years."
---
Diamond Jubilee of Queen Elizabeth in 2012
Following on from the devotion to royal duties displayed in the previous Jubilee celebrations, the Queen's Diamond Jubilee featured a similar level of commitment to meeting people from across the UK and Commonwealth. Her Majesty, who had by this time surpassed Queen Victoria to become Britain's longest-reigning monarch, set out with Prince Philip to travel as widely as they could across the Home Nations.
The royal couple visited every region that year whilst other members of the extended Royal Family flew overseas to tour the Commonwealth realms. Whilst the future King, Prince Charles, and the Duchess of Cornwall delighted fans in Australia, New Zealand, Papua New Guinea and Canada, the Queen's grandchild Prince William and Kate Middleton, Duchess of Cambridge, went to Tuvalu and Princess Anne visited South Africa.
The Queen started off the Diamond Jubilee central weekend with an appearance at the Epsom Derby before Big Jubilee Lunches were held the next day. This built upon the Big Lunch initiative and the Big Jubilee Lunches encouraged people to share lunch with friends and neighbors to celebrate the Diamond Jubilee.
There was also the much-photographed Thames Diamond Jubilee Pageant which featured up to 1,000 boats on the Thames from across the world. Riding at the center of this flotilla was the Queen herself on the Royal Barge with Prince Philip, glimpsed by the excited crowd.
And, just like for previous Jubilees, there was also a Diamond Jubilee Concert at Buckingham Palace, this time organized by none other than Take That star Gary Barlow for the BBC. It's reported that the Queen left Take That's Gary Barlow stumped with questions ahead of the event but she later seemed to enjoy it as she took to the stage.
After the concert the monarch then lit the National Beacon and there was one again a service at St Paul's Cathedral, a lunch at Westminster Hall and a procession to Buckingham Palace, as well as a balcony appearance. That year the Queen's Diamond Jubilee Trust was set up to take donations from anyone who wished to give a gift to the monarch.
According to the Royal Family's website, the funds raised by the trust have gone towards different initiatives such as Queen's Young Leaders, which supports young community trail blazers across the Commonwealth.
---
Sapphire Jubilee of Queen Elizabeth in 2017
The Queen's Jubilee celebrations are typically held to mark decade milestones, aside from the Silver Jubilee and the Sapphire Jubilee. The latter commemorates 65 years of the Queen's reign, though it's perhaps not as frequently thought of as the others and didn't involve the unveiling of a major schedule of events and engagements.
A 41-gun salute was fired in Green Park in London to mark the Queen's Sapphire Jubilee, with more gun salutes taking place in Edinburgh, York and Cardiff.
A 2014 portrait of Her Majesty by photographer David Bailey was reissued for the occasion and features the Queen wearing a magnificent pair of sapphire earrings with a matching necklace.
These were reportedly given by King George VI as a wedding gift when the Queen married Prince Philip in 1947. Though not celebrated as widely, the Queen's Sapphire Jubilee was of huge significance to her as it made Queen Elizabeth the first British monarch to mark 65 years on the throne.
---
Platinum Jubilee of Queen Elizabeth in 2022
The Queen's Platinum Jubilee year started in February 2022 but the central bank holiday weekend where this milestone will be celebrated has yet to take place. The packed schedule of events will include the Queen's Birthday Parade, Trooping the Color, a Platinum Jubilee Pageant, a Platinum Party at Buckingham Palace and the traditional Service of Thanksgiving.
Already the Queen revealed an epic sculpture in honor of the Platinum Jubilee and although the Queen's scaled back Platinum Jubilee attendances, it's thought that there will be several events attended by the monarch this summer.
The Queen is currently expected to make a highly-anticipated appearance on the Buckingham Palace balcony as we've seen in previous years. Though not all of the Queen's grandchildren and their children will be joining her there. Instead, it was recently confirmed that Her Majesty decided that only members of the Royal Family who are undertaking official public duties on her behalf will.
This means that Prince Harry, Meghan Markle, Archie and Lilibet Mountbatten-Windsor won't be on the balcony. But to the delight of fans, the Sussex family will be making the trip over from their Santa Barbara mansion for the celebrations.
And Her Majesty has already had her first Platinum Jubilee outing as she attended a special performance in her honor at the Royal Windsor Horse Show 2022. The Queen's shawl kept her warm for the evening as she watched the A Gallop Through History event which even featured her granddaughter Lady Louise Windsor carriage driving.
With 1,300 performers and 500 horses it was quite the show and fans can look forward to more spectacular events as the Jubilee weekend draws ever closer.
But the Queen's Jubilee is not just about celebration to her, but about her commitment to her role as Sovereign. For Accession Day 2022 and the official start of her Platinum Jubilee year in February, Britain's longest-reigning monarch released a special message in which she renewed the pledge she'd made all those years ago.
The Queen went on to declare, "And so as I look forward to continuing to serve you with all my heart, I hope this Jubilee will bring together families and friends, neighbors and communities - after some difficult times for so many of us - in order to enjoy the celebrations and to reflect on the positive developments in our day-to-day lives that have so happily coincided with my reign."
When is the Jubilee bank holiday weekend?
The Queen's Platinum Jubilee 2022 celebrations will take place over a bank holiday from Thursday June 2nd until Sunday June 4th. This is similar to some of the previous milestones in the Queen's Jubilee history where people in the UK got an extra day off to celebrate. For the momentous Diamond Jubilee, Tuesday June 5th was a bank holiday and for the Golden Jubilee, Monday June 3rd was one too.
This year, however, an extra day off was granted in tribute to just how major a milestone the Platinum Jubilee is, making a four-day central weekend.
Emma is a Senior Lifestyle Writer with six years of experience working in digital publishing. Her specialist areas including literature, the British Royal Family and knowing all there is to know about the latest TV shows on the BBC, ITV, Channel 4 and every streaming service out there. When she's not writing about the next unmissable show to add to your to-watch list or delving into royal protocol, you can find Emma cooking and watching yet more crime dramas.