Why Prince William and Harry were 'lost souls' before meeting Kate and Meghan
Princes were "lost souls" before meeting their wives says royal expert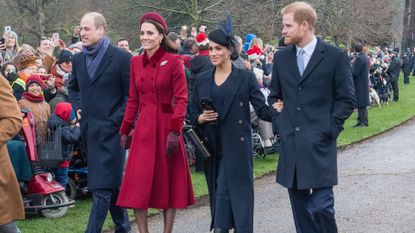 (Image credit: Getty)
Prince William and Prince Harry were both "lost souls" before meeting their wives, a royal biographer has said.
Royal author Tom Quinn has explained how following the loss of their mother, Princess Diana, the princes both "needed a woman."
He adds that while Kate and Meghan are very different, the boys need the women in "similar ways."
---
Prince William was 15 while Prince Harry was just 12 when they lost their mother. And according to royal author Tom Quinn, until they both met their now-wives, the princes were "lost souls."
Explaining how William and Harry both "need" their partners, Tom said, "I think actually, in a strange way, the two boys, William and Harry, need their partners in a very similar way."
He revealed how Princess Diana was "perhaps more modern and loving" as a parent than King Charles was and explained how the boys sought out different types of women as a result.
Tom said, "When their mother died, they had that terrible thing on top of the insecurity of being brought up by paid staff. I think by the time they reached adulthood, they both needed a woman who was either, in the case of William, level-headed and strong in that quiet, solid, secure way Kate has.
"Or, in the case of Harry, someone like Meghan, who was going to grab him by the scruff of the neck and say, 'This is the way to live.'"
Though the brothers are very different, "the end result was the same, because the symptoms were the same," Tom explained. "I think by the time Harry and William reached their late teens, they were lost souls."
William and Harry met their wives at very different stages in their lives. William first met Kate at St. Andrew's University in 2001. They became a couple in 2003, but split briefly in 2007.
However, they soon rekindled their romance and became engaged in 2008. Kate and William's wedding in April 2011 earned the UK a bank holiday and was watched by millions.
In contrast, Harry met Meghan much later in life in 2016 at the age of 32. The pair got engaged in November 2017, after less than a year and a half of dating, and tied the knot in May 2019 and was the most watched royal wedding of all time.
Meghan Markle wore a wedding dress estimated to have cost around $265,000 (£192,700), with the veil said to have taken 3,900 hours to embroider. The magnificent gown was made from double-bonded silk cady, cushioned by an underskirt in triple silk organza.
Robyn is a celebrity and entertainment journalist and editor with over eight years experience in the industry. As well as contributing regular to woman&home, she also often writes for Woman, Woman's Own, Woman's Weekly and The Sun.