Unearthed photo shows a curly-haired Princess Anne feeding monkeys - and it's the sweetest image of the stoic royal
We can't get over the cuteness level in this picture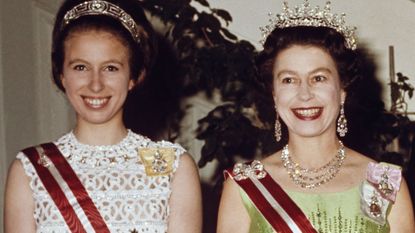 (Image credit: Getty Images)
Princess Anne has always had a special connection to animals - and this adorable picture of her feeding monkeys only further proves that point.
Princess Anne, who has always been known as being a bit more on the stern side, certainly takes herself very seriously - so it's all the more fascinating when a photo arises of her letting her royal guard down. Anne, who was an Olympian in the '70s in Canada, has always had a strong connection to animals, despite her more stoic personality.
In a recently unearthed picture of a very, very young Princess Anne, we see her adorably feeding monkeys while in Gibraltar.
There are so many cute things to point out in this image. First of all, we have to draw our attention to Anne's tiny blonde curls - which are an adorable departure from her usually perfectly coiffed bob. We also can't get over her tiny, collared dress - and we honestly wish we had a grown up version of it for ourselves!
It's hard to imagine Princess Anne as a young girl, seeing as she usually is seen as the hardest-working royal, helping to carry her family's legacy - but we're so glad we could see this sentimental photo of her.
Princess Anne has been, no doubt, one of the wisest members of the family. In fact, she even gave Meghan Markle some "sage" advice a few years ago, according to royal expert Neil Sean.
"Apparently, when Meghan Markle joined the Royal Family, she sought out Princess Anne. According to a very good source, Princess Anne gave very sage advice to the new royal. As we know, Princess Anne is the hardest-working royal," Neil said.
"Princess Anne reiterated this mantra, she pointed out that it wasn't a working monarchy; it was a job, you turn up on time, you do your research, and do the duty. It's all about the project at hand. She also pointed out that whatever charities you are involved in you, you needed to get involved and get immersed," he continued.
Obviously, Meghan and her husband Prince Harry are no longer carrying out their royal duties - and fans of the couple were able to see how the two are living their lives out in California, thanks to the new Netflix documentary series Harry & Meghan.
And, of course, Princess Anne is nowhere to be seen in the series, as are the other royal family members - but Princess Anne especially has never enjoyed being in the spotlight. In fact, in the past, journalists and reporters have been too scared to ask Princess Anne questions the same way that they would ask Kate Middleton or Meghan Markle questions.
Madeline Merinuk is woman&home's US lifestyle news writer. She covers celebrity, entertainment, fashion, and beauty news but is also obsessed with internet trends - you can find her reciting trending TikTok sounds out loud at any given time.
After winning multiple student journalism awards for her investigative work, she graduated from Hofstra University in 2021 with a B.A. in Journalism. After graduating, she worked at today.com, the digital site for the Today Show, where she wrote pop culture news and interviewed big-name personalities like Emily Ratajkowski, Haley Lu Richardson, Emma Corrin, and more.
Her personal interests, in no particular order, are: cheese, Joni Mitchell, reading, hot yoga, traveling, having multiple chapsticks in every handbag at all times, and dancing to ABBA songs as if she were in the Mamma Mia movies.