The unlikely way Meghan Markle and Prince Harry wind down after Archie and Lilibet go to bed
The couple has a chilled routine after their children go to bed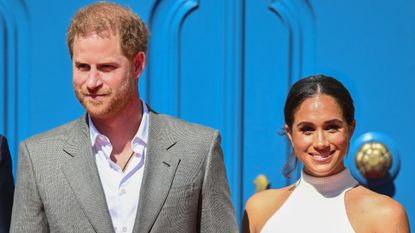 (Image credit: Getty)
Meghan Markle has revealed the way she and husband Prince Harry relax after putting their two children, Archie and Lilibet, to bed.
Meghan revealed how she plays games on her phone before she and Harry settle down in front of the TV.
She also revealed the TV show that three-year-old son Archie loves.
---
Meghan Markle has opened up about her and Prince Harry's family evening routine. Speaking to Variety (opens in new tab), Meghan shared how she has games that she plays on her phone - including the popular word puzzle Wordle - before they settle in front of the TV.
When asked about their nighttime routine, Meghan explained, "Once we've gotten the kids to bed and I've played a little Wordle, or done my ten minutes of Duolingo - I really wanted to relearn French, I had studied it for the four years in high school and then it just went away."
She added how she and Harry, like many other couples, struggle to find something to watch after endless scrolling. She continued, "So after those two things if we do turn on the TV, which is fairly rare, I think we're like most people where you just do endless, endless, endless searching until you get so tired of searching you don't watch anything."
But there is one show the couple is a huge fan of - White Lotus. Meghan explained, "There are some incredible shows on at the moment, and I think watching great storytelling - there's nothing like it. So I would say White Lotus was a pretty good example of that."
And when it comes to what their children, Archie and Lilibet, like to watch, Meghan revealed, "Lily is only one so she doesn't watch TV but Archie, he's loved Octonauts for a really long time."
Meghan also told Variety the advice she'd give actresses playing her. Admitting that she has to detach herself from the idea of her life being depicted on TV or in film, the Duchess of Sussex told the publication, "I haven't given that much thought, to be honest. It's all weird. You have to compartmentalize. Anyone talking about me or casting an actor to play me, that will be a caricature of me that has been created for a business that makes people a lot of money."
But offering some helpful advice for anyone who lands the role of Meghan Markle in future adaptations of her and Prince Harry's life, the Duchess of Sussex shared her hopes for them to find certain aspects of her personality in how they play her.
I hope that in preparing for that role, she finds the softness and the playfulness, and the laughter. The silliness. I just hope she finds the dimensions."
She also assured them that she's free for a phone call to chat over the methods of playing Meghan, laughing, "Also, she can call me!"
Robyn is a celebrity and entertainment journalist and editor with over eight years experience in the industry. As well as contributing regular to woman&home, she also often writes for Woman, Woman's Own, Woman's Weekly and The Sun.