Meghan Markle shares vital advice for actresses playing her
Meghan Markle says actresses cast to play her can give her a call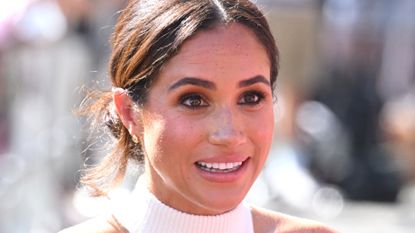 (Image credit: Photo by Karwai Tang/WireImage/Getty Images)
Meghan Markle has shared some vital advice to any actress who is ever cast to play her, even promising that they can "call her".
Meghan Markle is urging any actress who ever plays the role of her to find the "softness and playfulness" in her character.
The Duchess of Sussex promised that anyone given the role of Meghan Markle can even give her a phone call for tips.
This royal news (opens in new tab)comes after Meghan revealed Prince Harry's favorite US snack that he loves ordering at the drive-thru.
---
In a candid interview with Variety, Meghan Markle has opened up on her advice for any actresses that ever play her on screen.
Admitting that she has to detach herself from the idea of her life being depicted on TV or in film, the Duchess of Sussex told the publication, "I haven't given that much thought, to be honest. It's all weird. You have to compartmentalize."
Adding that she sees how the desire for her likeness to be portrayed comes from a money-making perspective, Meghan continued, "Anyone talking about me or casting an actor to play me, that will be a caricature of me that has been created for a business that makes people a lot of money.
"Once you can separate that out, it's much easier to go: 'OK. That actually has nothing to do with me.' It genuinely doesn't. It's a hard lesson to come to grips with."
Offering some helpful advice for anyone that lands the role of Meghan Markle in future adaptations of her and Prince Harry's life, Meg shared her hopes for them to find certain aspects of her personality in how they play her.
I hope that in preparing for that role, she finds the softness and the playfulness and the laughter. The silliness. I just hope she finds the dimensions."
She also assured them that she's free for a phone call to chat over the methods of playing Meghan, laughing, "Also, she can call me!"