Prince William set to take on 'active role' in King Charles III's coronation ceremony as Harry's position remains unclear
Prince William will have a hand in planning King Charles' coronation ceremony to make sure 'it reflects modern-day Britain'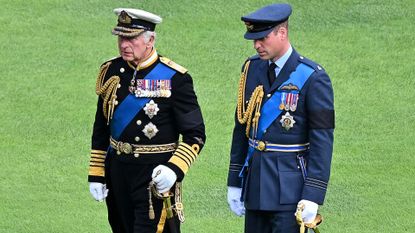 (Image credit: Getty)
Prince William is set to take on an exciting key role when it comes to planning King Charles III's coronation ceremony.
---
Prince William will reportedly help plan King Charles's coronation ceremony in order to set the tone of the event and to focus on how the ceremony can reflect modern-day Britain, according to The Telegraph (opens in new tab).
Prince William will be the first heir of over three generations to be an adult during a monarch's crowning, as King Charles was just four years old when his mother Queen Elizabeth was crowned, and Queen Elizabeth was 11 years old when her father George VI had his coronation.
It's expected that Prince William will have an advisory position on the coronation committee and will likely take part in the ceremony alongside his wife, Kate Middleton.
The Palace has confirmed that King Charles III's coronation ceremony will take place on 6 May 2023 following the Queen's death in September. The King will be crowned alongside his wife, Queen Consort Camilla, at Westminster Abbey following the tradition of other Queen Consorts. Queen Mother Elizabeth was the last woman to hold the title, when she was crowned in 1937.
It's has been reported that the new Queen will unlikely take an active role in planning the ceremony unlike the last consort, Prince Philip, who helped plan the 1953 coronation of Queen Elizabeth.
King Charles' coronation ceremony will fall on the 4th birthday of Archie Mountbatten-Windsor, the son of Prince Harry and Meghan Markle, and it's unclear whether the royal couple will attend or be part of the planning and celebration.
Unlike Queen Elizabeth II's extravagant ceremony, King Charles' coronation is expected to be scaled back, to reflect the current cost-of-living crisis.
The Queen's coronation back in 1953 cost £1.57 million - the equivalent of £46million today - and more than 8,000 guests from 129 nations traveled to Westminster Abbey for the event.
But when it comes to his coronation, King Charles apparently wishes to "avoid extravagance while ordinary people struggle with the cost of living crisis" and is keen to "demonstrate his understanding of the problems facing ordinary members of the public" by holding a "relatively modest ceremony." There will also only be 2000 guests.
When announcing the date of the ceremony, Buckingham Palace said, "The coronation will reflect the monarch's role today and look towards the future while being rooted in longstanding traditions and pageantry."
While royal sources have stated, that King Charles' coronation has been "deliberately kept quite unplanned to ensure it can best reflect the climate at the time at which it happens."
Robyn is a celebrity and entertainment journalist and editor with over eight years experience in the industry. As well as contributing regular to woman&home, she also often writes for Woman, Woman's Own, Woman's Weekly and The Sun.