This is the TV show the Queen watched to cope with the death of Prince Philip—and you can watch every episode now
There's one beloved British TV show the Queen watched to help her through the loss of Philip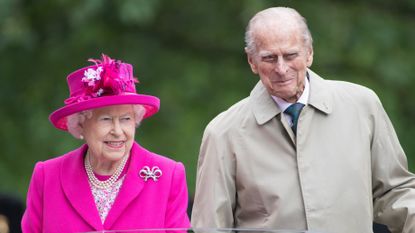 (Image credit: Photo by Jeff Spicer/Getty Images)
There is one particular TV show the Queen is said to have watched in the days after the death of Prince Philip, in order to help her cope with the loss of her husband.
---
The grand finale of season six of Line Of Duty had millions of Brits tuning in to the BBC to watch the long running police drama come to a close, finally unveiling the identity of the infamous 'H' earlier this year.
And it seems that the Queen was among the viewers glued to the screen as the seven episodes leading up to the long-awaited conclusion were broadcast in the weeks after she said a final goodbye to Prince Philip.
According to The Sunday Times, the widowed monarch watched Line Of Duty with Vice-Admiral Sir Tony Johnstone-Burt, who is one of her household aides who ran the Queen and Philip's 'HMS Bubble' during the UK's Covid lockdowns.
"The Queen was very into Line of Duty and enjoyed discussing the plot lines with Tony," a royal source told the publication.
If you're outside of the UK and keen to check out the royally-approved program, you'll need to know how to watch Line Of Duty in the US and anywhere in the world.
Every episode of Line of Duty's seven-season history is available to stream now on BBC iPlayer, so you can watch the gripping TV show the Queen watched during one of her saddest times, for yourself.
As well as losing her husband of 73 years and being unable to take on as much of her usual work in person, the Queen also suffered the death of her new puppy, Fergus, this year and dealt with her grandson Prince Harry's explosive admissions about his feelings on royal life.
Her Majesty has also been plagued with various health issues, having to miss royal engagements following a warning from doctors, stepping out for work with a walking stick for the first time in decades and even suffering a painful back sprain.
And while Her Majesty has been blessed four new royal great-grandchildren this year, it's been claimed that she is finding it difficult to live so far away from Prince Harry, little Archie and baby Lilibet.
She has also had to endure the revelations on Harry's experience as a member of the royal family, with him sharing details of his pain in interviews since moving to LA.
The Duke of Sussex even made a dig at the parenting within the Queen's firm, admitting he feels he was born into a "cycle of genetic pain and suffering" and explaining that he and Meghan Markle left their roles as senior royals in order to break free from the cycle.
Speaking on Dax Shepard's Armchair Expert podcast, he said, "There is no blame. I don't think we should be pointing the finger or blaming anybody, but certainly when it comes to parenting, if I've experienced some form of pain or suffering because of the pain or suffering that perhaps my father or my parents had suffered, I'm going to make sure I break that cycle so that I don't pass it on, basically.
"It's a lot of genetic pain and suffering that gets passed on anyway so we as parents should be doing the most we can to try and say: 'You know what, that happened to me, I'm going to make sure that doesn't happen to you.'
"Suddenly I started to piece it together and go 'OK, so this is where he went to school, this is what happened, I know this about his life, I also know that is connected to his parents so that means he's treated me the way he was treated, so how can I change that for my own kids?'
"And well here I am, I moved my whole family to the US, that wasn't the plan but sometimes you've got to make decisions and put your family first and put your mental health first."