The sweet story behind the iconic photograph of The Queen and Prince Philip laughing
The adorable story behind the photo of the Queen giggling with the Duke of Edinburgh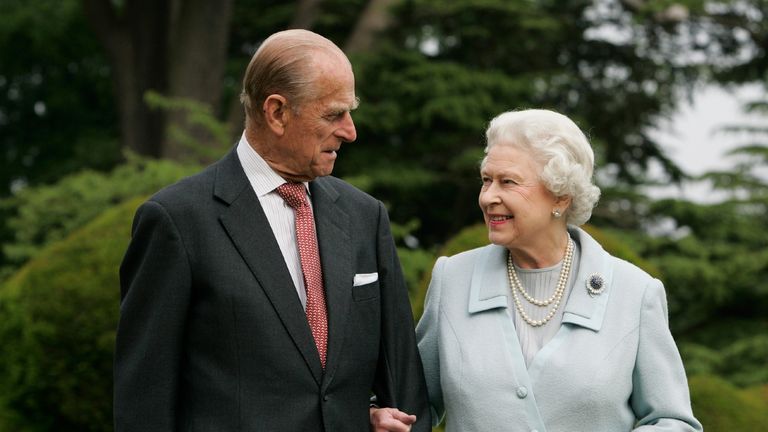 (Image credit: Tim Graham / Contributor / Getty Images)
The photographer behind one of the most iconic photos of the Queen and her late husband, the Duke of Edinburgh, has revealed the adorable story behind the image.
• One of the most iconic images of the Queen laughing with her husband has resurfaced.
• The photographer behind the image has revealed the real-life adorable story behind the famous snap.
• In other Royal news, 'United in grief' Prince Harry and Prince William to walk shoulder to shoulder at Prince Philip's funeral
In 2003, the Queen and Prince Philip were snapped laughing at a review of the Grenadier Guards' elite Queen's Company regiment at Windsor Castle. The photo quickly became one of the most memorable of the Royal couple as they showed off a more relaxed side of themselves.
Rumours on the internet suggested that the Queen was laughing because her husband, the Duke of Edinburgh, pranked her by dressing as a soldier. However, the photographer behind the image, Chris Young, has revealed the real story behind the famous image - and it's even sweeter than we might have thought.
Prince Philip pranking The Queen by dressing as a Palace Guard. pic.twitter.com/jiH6It299DApril 10, 2021
See more
Chris Young told the BBC that he was the only photographer at the 2003 event. Meaning that he had a huge responsibility to capture the spirit of the occasion. "It can be nerve-wracking... if you mess it up no one gets a picture of the event," said Chris. But as luck would have it, mother nature intervened and he managed to get a hilarious shot of the Royal couple.
Chris revealed that during the event, a swarm of bees invaded the area and a Royal beekeeper had to be summoned to control the invasion. Despite the swarm, the event continued and although the Queen and the Duke tried to remain serious, the hilarity of the event made the couple break their composure. The photographer noted, "I thought the reaction from both of them was pretty unique," as he recalled the event.
Chris revealed that he was very fortunate to capture the adorable moment. "I got lucky," he said, "I recognised that it was a human moment. She was giggling like a little girl and he was laughing too."
Chris revealed that the event ended up being a little haphazard and ultimately had to be halted so that the bees could be dealt with. Chris said, "Some of the guests were unsure as to whether they should move, but eventually everyone had to beat a retreat." Despite this drama of the event, Chris managed to snap the iconic image that Royal fans adore.
Fans also love this story behind the famous image and many took to social media to share their reactions. One fan said, "I've always wondered what she was giggling about, but this was definitely a surprise." Another said, "This is one of my favourite pictures of them. She's trying not to crack up laughing and so is he."