Prince Philip was still 'fascinated' and 'charmed' by the Queen after 72 years of marriage
Body language expert Judi James claims his expressions show Prince Philip remained as enamored with the Queen as when they first met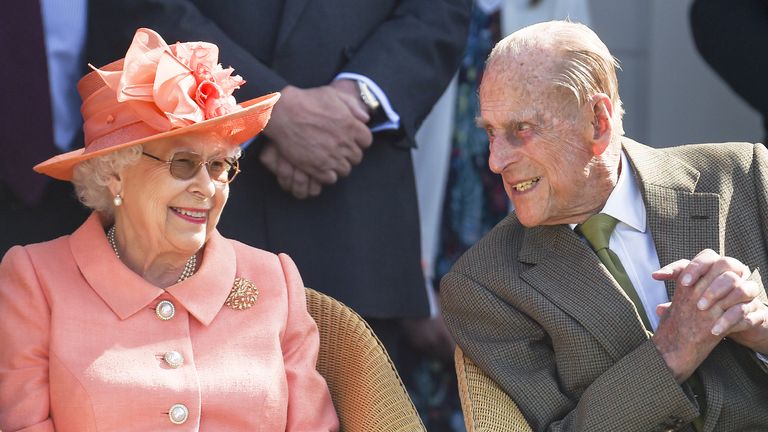 (Image credit: Getty Images)
The Queen and Prince Philip were married for 72 years and remained strong throughout, with a body language expert claiming the couple were still very much in love, even in the last years of their marriage.
When a body language expert analyzed the Queen and Prince Philip's interactions, their special bond was clear.
Body language expert Judi James claims that Her Majesty and Prince Philip retained their spark, even after 72 years of marriage,
Prince Philip still appeared 'fascinated' and 'charmed' with the Queen in the final years of their marriage.
---
This week, the public heard the sad news that the Duke of Edinburgh had passed away aged 99. While this is undoubtedly a difficult time for the whole family - with the royals uniting in their grief with tributes to the late Prince Philip - our thoughts are with the Queen, who has lost her life companion and husband of 72 years.
Like most couples, the Queen and Prince Philip weathered many storms, but body language expert Judi James thinks the couple were just as solid in their final years together as they were all those years ago.
We're in no doubt that living through the pandemic must have been a difficult time in the couple's relationship, especially as the pair had to spend a lot of time apart due to royal duty commitments. But when the pair were pictured together, it's clear that they still have the same rapport as when they first met all those years ago.
Judi told Express.co.uk that they appear as in love as ever, with Philip, 99, still "fascinated" by her Majesty.
She said, "Still posing with a sense of personal pride like the gallant and dashing prince, even in his nineties, Philip still retains his rather romantic-looking trait of watching and speaking to his wife in public as though he is still as charmed and even fascinated by her as he was when they were first engaged.
"He will turn his head and lower it to use eye contact as she speaks to him, while his grin still suggests he is keen to encourage her to enjoy even the most formal royal occasions."
And he's not the only one mimicking the body language of when they were a young and engaged couple. Judi explained, "The response he gets from his wife is equally telling. She might be one of the most famous women in the world and she might also be in her nineties with four children and a whole brood of grand and great-grand-children, but the excited, delighted, and even slightly coy smile as she responds to Philip looks almost identical to the 'young girl with a crush' expression she wore during the earliest days of their relationship."
The couple's journey hasn't been an easy one as Prince Philip was forced to end his naval career and succumb to stepping back as she became the dominant one in the household. And it was a change that can be noted in their body language.
"When Philip first became engaged to the then Princess Elizabeth their official poses all seemed to emphasize his dominant masculinity and power while Elizabeth's shy, beaming smiles gave the impression of a besotted teenager," Judi analyzed.
But when Elizabeth was crowned in 1953, their status signals shifted. "The status signals changed dramatically when Elizabeth became Elizabeth II and Philip kneeled before his young wife in an act of public deference at her coronation."
Thankfully that didn't stop the pair from enjoying a happily married life - it's widely reported that the couple still thoroughly enjoyed each other's company even after 72 years together. Her Majesty and Prince Philip were known to sleep in separate bedrooms throughout their marriage - maybe there is something to be said for not squabbling over the duvet cover!