The Queen's adorable TV ritual with 'favorite' grandchild Lady Louise Windsor when she was little
The Queen had a super sweet TV tradition with her 'favorite' granddaughter, Lady Louise Windsor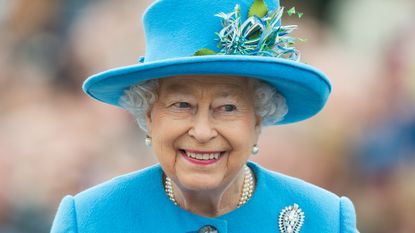 (Image credit: Getty Images)
The Queen is said to have shared a seriously sweet TV tradition with Lady Louise Windsor, who is said to have been her favorite grandchild.
The late Queen Elizabeth II reportedly loved visiting Lady Louise Windsor and James Viscount, Severn to watch children's TV show, Mr Tumble, with them.
Her Majesty would visit Prince Edward and Sophie Wessex's children when they were little to watch the show with them.
---
While the late Queen Elizabeth II adored all eight of her grandchildren, she is said to have shared a particular bond with Lady Louise Windsor, who has been hailed her 'favorite' of her children's children by royal experts over the years.
It's been claimed that Her Majesty and Lady Louise, who is now 19-years-old and at university at St Andrews in Scotland, would enjoy some cozy television time together when Louise was a little girl.
Louise is the eldest child of Prince Edward and Sophie, the Countess of Wessex, who also share 15-year-old James, Viscount Severn.
It's believed that James and Louise would pay their granny visits at Windsor Castle, nearby to their Bagshot Park home, or the monarch would come over to them in order to spend quality time by the TV.
"I remember years ago a member of royal staff telling me how they walked in and the Queen was watching Mr Tumble with Louise and James," royal journalist Rebecca English told the Express.
"She was able to indulge her grandchildren in the way she probably wasn't able to indulge her own children. It's really quite lovely to see," she added.
Lady Louise and the Queen formed a close bond over the years, with a royal insider telling The Sun that she was her "favorite grandchild, closely followed by James."
The long-reigning Queen, who passed away in September 2022 at Balmoral Castle, and Lady Louise shared a true love of horses and riding, which they closely bonded over.
Meanwhile, Lady Louise and her grandfather, Prince Philip, loved to spend days carriage riding together, after she followed his footsteps in taking up his beloved hobby.