The Queen has a hilarious nickname for her SatNav, and it's proof of her notoriously dry wit
The Queen is said to crack up her passengers with her hilarious nickname for the SatNav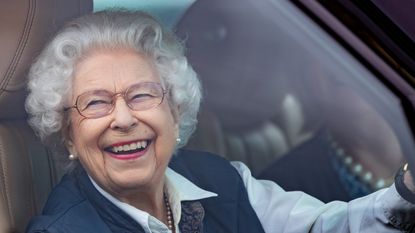 (Image credit: Max Mumby/Indigo/Getty Images)
Underneath all the pomp and circumstance, the Queen has long been celebrated for her dry, biting sense of humor. Now, sources have revealed the comical way Her Majesty refers to the SatNav, proving how mentally sharp she is, and how she likes to crack jokes like the rest of us.
The Queen is said to amuse her passengers when driving by calling the SatNav "the woman under the bonnet"
Her Majesty is said to play dumb with the SatNav, knowing full well how it works and how people find her dry sense of humor disarming
---
Being in the presence of Her Majesty the Queen must be daunting for anyone, so it's reassuring to know that she often relies on dry humor to ease the situation.
While Her Majesty is nothing but proper while on duty, she has long been praised for having a cheeky and sharp wit – something which she knows must make her guests feel more relaxed when around her.
And for those who are lucky enough to be chauffeured around by Her Majesty, they might be privy to the comical way she interacts with the SatNav.
A long-time lover of driving, one might suggest Her Majesty feels most confident when behind the wheel. Especially if recent sightings, like when the Queen wore bold red lipstick while driving, are anything to go by.
So to hear she enjoys cracking jokes with "the woman under the bonnet" – aka the SatNav – is a delightful mental picture.
A source close to the royals explained the story, adding that it's part of her disarming shtick to pretend to be confounded by the technology, "but Her Majesty is very sharp. She has a brilliant sense of humor and a very quick wit."
"It always tickles people to hear her remark 'it's the woman under the bonnet again' when she hears her voice."
It's not the first time the Queen's sense of humor has been shared.
The Queen proved she isn't all stiff upper lip during an embarrassing moment, cracking a joke about a phone going off as soon as she met with people in hospital.
Jack Slater is not the Last Action Hero, but that's what comes up first when you Google him. Preferring a much more sedentary life, Jack gets his thrills by covering news, entertainment, celebrity, film and culture for woman&home, and other digital publications.
Having written for various print and online publications—ranging from national syndicates to niche magazines—Jack has written about nearly everything there is to write about, covering LGBTQ+ news, celebrity features, TV and film scoops, reviewing the latest theatre shows lighting up London's West End and the most pressing of SEO based stories.