The heartbreaking loss that made Prince William 'embrace not resent' his royal fate
Prince William has embraced his royal fate following the death of Prince Philip, a royal insider believes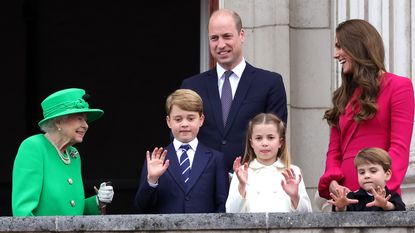 (Image credit: Photo by Chris Jackson/Getty Images)
Prince William stepped up to the mark to fulfil his royal destiny, embracing his duty rather than resenting it following the death of Prince Philip, a royal expert claims.
Prince William is believed to have stepped up to represent and support the Queen following the death of Prince Philip in 2021 and amid her ongoing health struggles.
It's thought that Her Majesty is relying more and more on the likes of the Duke and Duchess of Cambridge to lead the way when it comes to the future of the monarchy.
---
A royal author claims that it was the passing of his grandfather, Prince Philip, in April of 2021 that really made him step up to the plate in taking the lead within the monarchy's future, along with Prince Charles.
Claudia Joseph, author of William And Kate's Britain, says that it's clear to see how Prince William, who will ascend the throne after his father, has matured over the past decade, having become a husband to Catherine and a father to Prince George, Princess Charlotte and Prince Louis.
The Cambridges, who currently reside at Kensington Palace in London and Amner Hall in Norfolk, are reportedly even preparing to move to Adelaide Cottage in the grounds of Windsor Castle this summer, in order to be near the Queen.
Pointing out just how much the Queen has leant on the Duke and Duchess of Cambridge as well as the Prince of Wales and Duchess Camilla to lead the way in the royal family in recent years, Claudia told OK! magazine, "They have been much more high profile since the start of the first lockdown.
"It's astonishing how much William has changed since he got married and became a father."
Suggesting that it was the loss of Prince Philip that triggered Prince William to really bring his future as King to the forefront of his life as a royal, Claudia added, "He has certainly stepped up to the mark since the death of his grandfather Prince Philip last year, and seems to have embraced his role, rather than resent it."
Meanwhile, royal pro Jenny Bond recalled how a younger Prince William was not as keen on heading up a role as a serious member of The Firm, but told the publication that he has grown to take it in his stride as he's matured.
"We did see a reluctance to take on the role earlier on, in his early adolescence," Jenny explained.
"But in the last couple of years he has shown convincingly that he is the man for the role and that he cares about being king. He absolutely fully accepts the role and the responsibility destiny has put his way."