Sophie Wessex sends heartfelt apology letter after 'upsetting' blunder during royal duty
Sophie Wessex sent a handwritten apology note after a rather awkward conversation at the Royal Variety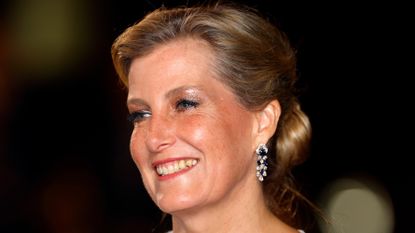 (Image credit: Getty Images)
Sophie Wessex is said to have sent a handwritten apology note to comedian Frank Skinner after an awkward encounter between the pair at the Royal Variety Performance.
---
Frank Skinner says that the Countess of Wessex sent him a handwritten letter of apology after he claimed she made "upsetting" comments about his and David Baddiel's performance of Three Lions at the 2022 Royal Variety Performance.
Speaking on Absolute Radio following the special event, Frank claimed that Sophie told him not to "give up his day job" during an awkward chat after his time on stage.
According to The Times, Frank took to the airwaves to explain that he had started feeling unwell ahead of the performance and recalled that Countess Sophie didn't hold back with making it clear she wasn't too impressed by his vocal skills.
"I was gradually getting more ill and more ill, as the day went on. I was struggling. We were singing Three Lions. So I croaked my way through the dress rehearsal. And then, on the night, we did the show," Frank explained.
Detailing his meeting with the Earl and Countess, Frank continued, "Sophie led the way, bearing in mind I'd had a really hard day and I battled on like a trouper. So she comes up and she says: 'Well, don't give up your day job.' I thought, 'This is not how the royal walk thing works'. And we honestly said, 'Pardon?'"
Claiming that the Countess also told him he wasn't "used to live audiences", Frank admitted that he felt the royal duo weren't up to scratch with their new duties.
He said, "I think that what's happened is they don't really do this stuff much, and they've been reduced in numbers for various reasons, and so they've been pulled out to do this and it's a bit of a skill just talking to someone for ten minutes and not upsetting them."
However, Frank has now claimed that he received a note from Bagshot Park, containing Sophie's apology for the mishap.
"I got a very lovely note this week - unexpected - from someone I've talked about on the radio show," he explained on his radio show.
Seeming as though he had accepted the apology, Frank added, "You know when the word classy springs to mind... I was quite moved by it.
"It was the most beautiful thing - handwritten and lovely. I was very pleased. It was a lovely thing, I love her now."