Sophie Wessex reveals why daughter Lady Louise had to give up her favourite hobby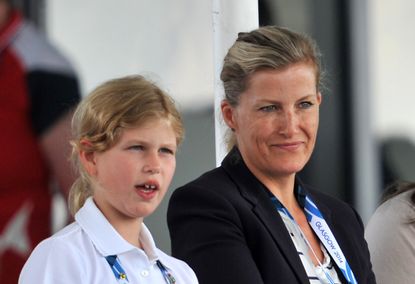 (Image credit: AFP via Getty Images)
Sophie Wessex has revealed why her teenage daughter Lady Louise has had to give up her favourite event this year.
Lady Louise Windsor, 16, is a keen horse rider, but she's had to give up competing in her favourite event.
Sophie Wessex has given the reason behind her decision, which isn't because of the COVID-19 pandemic.
Sophie Wessex daughter: Why did she have to give up her favourite hobby?
Lady Louise has always been fond of horses, which has given her an especially close bond with her grandmother, the Queen, as they both share the passion of carriage driving.
Lady Louise made her debut as a carriage driving at the Royal Horse Show in 2017.
But Sophie Wessex has revealed that even if the show hadn't been cancelled due to the, her daughter was never planning to compete this year.
This is because like many others her age, Louise is focusing on her school exams this year.
Sophie explained: "Yeah, she wouldn't have been able to compete this year because she would have been in the middle of exams, but it's a lovely thing to do.
"To actually participate in the horse show, you know, has been a really special thing for her to do.
"And in fact, actually, the first time she participated was of course in the pageant, which she adored."
Sophie added of her daughter's natural love of horses: "I trail in her wake frankly.
"She is so naturally good at it, she really is. It's something that she has taken to very well."
The Countess of Wessex also revealed how the Queen always has a "huge smile on her face" when one of her horses wins at the show.
She said: "We're always really hoping, whenever we bump into her, it's a question, sort of, you know 'how many winners?'
"She always has a huge smile on her face when she's had a place, which is fantastic."
Robyn is a celebrity and entertainment journalist and editor with over eight years experience in the industry. As well as contributing regular to woman&home, she also often writes for Woman, Woman's Own, Woman's Weekly and The Sun.