Princess Eugenie has a new patronage which is very close to her heart
Many Royal's often get patronage's for charities but this one is extra special for Eugenie.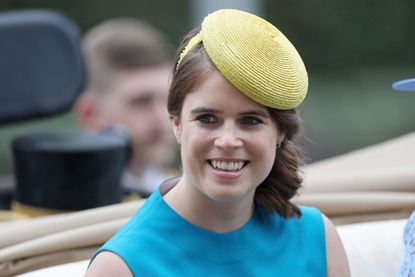 (Image credit: Getty Images for Ascot Racecours)
The Scoliosis Association UK announced Princess Eugenie has become their new royal patron.
Princess Eugenie suffered from scoliosis during her childhood.
Scoliosis is a sideways curvature of the spine and if left un-operated can be dangerous. When Eugenie was 12 she underwent an 8-hour surgery to correct her scoliosis and to fix the misalignment. Earlier this week it was announced that Eugenie has become a royal patron of the Scoliosis Association UK.
Two years ago Eugenie showed her X-rays for the very first time which linked to a blog post she had written for the Royal National Orthopaedic Hospital (RNOH), where she had the surgery.
In the post, she wrote, "during my operation, which took eight hours, my surgeons inserted eight-inch titanium rods into each side of my spine and one-and-a-half inch screws at the top of my neck. After three days in intensive care, I spent a week on a ward and six days in a wheelchair, but I was walking again after that."
But she follows that scary-sounding time with the following, "but my abiding memories of the RNOH, where the surgery was carried out, are happy ones - everyone there was so warm and friendly, and they went out of their way to make me feel comfortable and relaxed."
She said that the care was life changing, "without the care I received at the RNOH I wouldn't look the way I do now; my back would be hunched over. And I wouldn't be able to talk about scoliosis the way I now do and help other children who come to me with the same problem."
Becoming patronage of this charity couldn't be more fitting for the Mum to be. Stephanie Clark, co-founder and chair of SAUK, said, "am absolutely delighted and grateful that Princess Eugenie is to be our Royal Patron. Her bravery and experience makes this a very personal decision, and will continue to offer encouragement to the many people of all ages who are struggling to come to terms with their scoliosis."
More awareness was raised of the condition at the Princesses' wedding when she wore a low-back dress which showed the scar from her surgery. A move which many said was brave.
Rachel is a freelance contributor to woman&home, covering news as well as books, lifestyle and travel. Her byline has also appeared in The Independent, The Financial Times, ELLE Magazine, VICE, Glamour Magazine and others. She loves nothing more than talking with people to share their stories. When she is not writing you will definitely find her nose in a book or magazine, or perhaps training for the next half marathon, practicing yoga or eating in London's best restaurants.