Sophie, Countess of Wessex has given a rare glimpse into her stylish kitchen and we're obsessed
Sophie, Countess of Wessex has shared a video of her cooking in her home.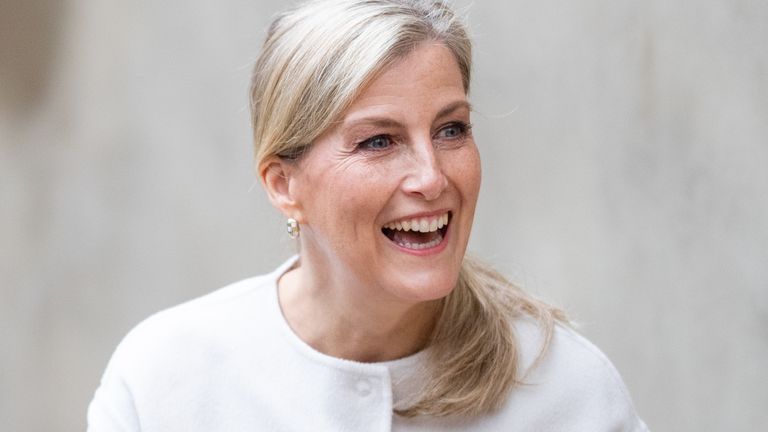 (Image credit: Photo by Pool/Samir Hussein/WireImage/Getty Images)
In the heart-warming video, the Countess of Wessex baked scones in her kitchen and the clip was soon posted on the Royal Family's official Twitter page. This video comes as Sophie took part in the Children in Need 'Act Your Age' challenge. 
As the president of the Girl Guides, Sophie was keen to do her bit. Addressing viewers, she spoke of how she'd been asked to take part in the campaign. The countess then went on to reveal "I've decided to make cheesy scones. Cheese and bacon scones actually."
This already sounds delicious, but the baking challenge took on another dimension. Sophie went on to say that baking scones was "all very well if you're ten years old", before adding that since she is not, she has got to make 55 of the cheese and bacon scones.
In the background of the video, the countess' stunning green, white and marble kitchen could be seen. With subtle sage walls, white cabinets and white marble worktops, the kitchen has an effortless elegance about it.
How have viewers reacted?
The video went on to be tweeted and posted on Instagram by The Royal Family. They posted the clip, writing that 'The Countess' scones were later delivered to @TheHopeHub Camberley, a charity supporting homeless people in Surrey.'
They also thanked all the other participants in the Act of Your Age campaign, posting 'Well done to everyone who has taken part in some marvellous #ActYourAge challenges!'
Some Twitter users seemed not to believe the video was genuinely filmed at the countess' home.
One tweeted: 'Seriously? Is that her own kitchen and recipe?' 
Still more viewers Tweeted their support for the countess getting involved, with one writing: 
'What a fun way to be socially distanced while still making a difference'
This sentiment was echoed by another, who praised Sophie for 'taking the time to do this for the girl guides'. 
This is not the first time that the Countess of Wessex has helped out a good cause. She recently made royal history as the ran the London Marathon for learning disability charity Mencap, for which she is a patron. 
Alongside the more poignant reactions, Sophie's sense of style has not gone unnoticed either. One Twitter user wrote that they 'liked to see a glimpse of the Wessex kitchen'. 
The Countess of Wessex and her husband Prince Edward moved into their home in Bagshot Park in Surrey after their wedding in 1999. 
Since then the happy royal couple have gone on to have two children, Lady Louise Windsor and James, Viscount Severn. 
We wonder if they'll be enjoying the cheese and bacon scones too?