Sarah Ferguson weight loss - how the Duchess of York lost an incredible five stone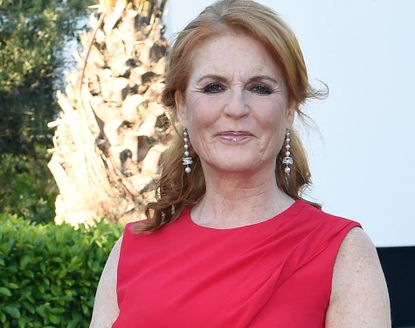 (Image credit: Shutterstock/Rex)
Whether she's attending one of her many charity engagements, making a mark at official royal events or out on the town spending quality time with daughters Beatrice and Eugenie, Sarah Ferguson rarely looks anything other than flawless.
Showing off her svelte figure in a selection of form-fitting dresses it's hard to believe that Fergie – as she's affectionately known - once weighed in at 15 stone and was given the moniker the "Duchess of Pork" by the press as she battled her weight demons.
Opening up about the triggers that led to her piling on the pounds the Duchess of York admitted in a previous interview that things started early with her parents divorce at the age of 12.
"My parents divorced when I was 12 and to compensate I started eating my favourite comfort foods. I'd gain weight, only to take great pains to lose it, then regain it. I didn't want to express to my mother that I was angry or sad that she'd left me. I found consolation in sausages, several rounds a day, butter and boiled eggs," the Daily Mail cites.
And later during her marriage to Prince Andrew – the pair tied the knot in 1986 - Fergie admitted that her husband's many stints away from home during his naval career led to another spiral of comfort eating.
"The more upset I grew at Andrew's absence, the more I grew," she told the same paper.
"I drowned my sorrows in mayonnaise, sausage rolls and sandwiches from M&S."
Sarah Ferguson - how did she lose the weight?
In the ensuing years the Duchess of York tried every technique and plan possible to achieve her desired physique. She experimented with the Hay Diet – a food combining programme that is said to restore your PH balance - Zone Therapy - where she had the pressure points of her feet massaged in an effort to 'release energy' - and supplemented these with three-times-weekly swimming sessions in the Palace pool.
Her DIY regime proved so successful that in 1991 she slimmed down to under 10 stone and was voted most inspirational female personality by readers of Slimming Magazine.
But her impressive weight loss is said to have been short lived, with the Duchess turning to personal trainer Josh Salzmann in the early 90s, whose no nonsense aerobic training helped her to get her weight back down to an 9 ½ stone.
In a glowing testimonial on Salzmann's website, Fergie writes;
"I am delighted to write this testimonial, as Josh and I have been through so many of different life obstacles and even in my most trying and despairing moments, Josh was there, and I got back on the bike! Fitness is mind, body and spirit, Josh always says.. "Free your mind and your bottom will follow".. I personally believe in listening to your body and smart training. Don't overtrain, and sleep and good nutrition is just as important. All of these values have been taught by Josh to me, and I personally can say I have lost close to 50 pounds, by not over training and incorporating the above disciplines. Thank you Josh, my friend, my buddy."
And Fergie's determination to stay in shape seemed to kick up a gear following her divorce from Prince Andrew in 1996. In 1997 she was named the new spokesperson for the 'Weight Watchers' international, following the points based plan to clock in her total weight loss of 5st 10lb.
Detailing her success on the Weight Watchers website at the time, The Duchess of York wrote;
"At first, the very idea of representing Weight Watchers in America was extraordinary. Though I'd been a Weight Watchers member in London when I was 19 years old, I wondered how I could possibly be a credible role model for successful dieting after so many years of yo-yo dieting. But it was my difficulties with weight control that made Weight Watchers approach me to be their spokesperson. That relationship changed my life, marking an important turning point when my weight, health, personal life and finances all started to come under control."
Years later Fergie's success with weight management reached a bump in the road, leading to a new direction for her weight loss journey.
In 2015, she revealed how she has turned to the Fusion Xcelerator blender Food Emulsifier after she "ballooned up" in weight.
https://www.youtube.com/watch?v=Y3E4973LJsA
Speaking to her host on a QVC commercial for the product she confessed; "I ballooned to about 192lbs. I saw a picture of myself and I needed to change my life and I went in search of the perfect way to change my life."
Makers of the Fusion Xcelerator claim that it 'breaks down and emulsifies fresh fruit, veggies and other foods to a cellular level…allowing the body to absorb and process more of their valuable nutrition easily.'
Fergie credited the blender with helping her to drop 55 pounds, and promotes both it and her accompanying step-by-step meal plan on her website Duchess Discoveries.
Writing on the site she gushes;
"A huge part of my transformation came the day a friend introduced me to the Fusion Xcelerator."
She went on to outline her winning weight loss formula of: "good nutrition, proper exercise, and discovering the many benefits of emulsifying foods with the Fusion Xcelerator."
Opening up about her wider mission in the same post she adds;
"When I wanted to protect my daughters from the weight problems I had suffered, I taught them the value of healthy living early on. Now, as adults, those healthy habits are automatic. And because I've faced obesity head on, I know how difficult it is to break out.
"So as a mother I can speak to young mothers about the importance of healthy habits – and how to teach them to their children."
And it seems that her youngest daughter Eugenie has definitely heard the message, with the princess recently revealing the details of her grueling fitness regime.
Like mother, like daughter – something that the Duchess can certainly be proud of.
Miriam worked for woman&home for over five years and previously worked on the women's lifestyle magazines Woman and Woman's Own.