Sarah Ferguson reveals exciting news as she announces new collaboration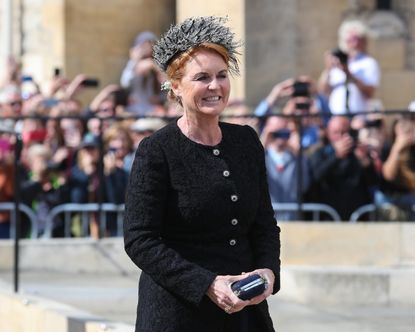 (Image credit: John Rainford)
Sarah Ferguson has revealed she will be writing a children's cookbook.
Sarah, affectionately known as Fergie, shared the exciting news on social media.
The book will be written in collaboration with popular food artist Laleh Mohmedi.
What did Sarah Ferguson say about her exciting news?
Taking to Instagram, Sarah wrote, 'I am so excited about collaborating with @jacobs_food_diaries on an exciting new fun food book.'
The book will be titled Fergie's Fun Food and will be aimed at children.
Laleh Mohmedi - who Fergie is teaming up with for he book - is the creator of Jacob's Food Diary, a project which saw the food expert turning her son's healthy meals into Disney characters.
She added of the project, "I am so excited and honoured to be partnering with The Duchess of York @sarahferguson15 and @serenitypress to create the most AMAZING food art book filled with delicious recipes and fun creations for the whole family to enjoy!"
The Serenity Press book is due to be released in early 2021.
Fergie has been working with the publishers for a while now - earlier this year they announced a seven book deal with the Duchess of York.
She has been writing children's books for years and has written more than 25 books over the past two decades.
The Duchess currently also has a daily show on YouTube, Storytime with Fergie and Friends.
Sarah started publishing daily videos on the site, in which either she or a guest read a story to children in a bid to keep kids entertained during lockdown.
But lately, Sarah has also started teaching gardening and creating fun snacks for children on the show - which is likely where the book has been inspired.
Congratulations, Fergie!
Robyn is a celebrity and entertainment journalist and editor with over eight years experience in the industry. As well as contributing regular to woman&home, she also often writes for Woman, Woman's Own, Woman's Weekly and The Sun.