The Queen's corgi trainer has revealed some heartbreaking news
Poor pooches!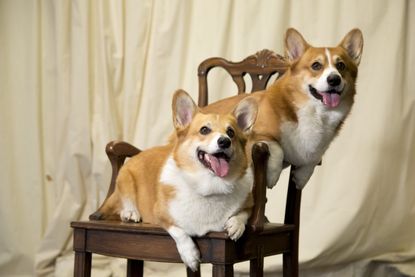 (Image credit: Getty)
The Queen's corgi trainer has some sad news for us.
The Queen's corgi trainer has revealed some sad news about the nation's dogs.
The canine expert explained that when we return to our normal lives after lockdown, our furry friends may suffer from severe anxiety.
While the ending of the coronavirus pandemic will bring joy and happiness to thousands across the nation, it turns out that the lifting of lockdown could impact dogs in a rather negative way.
With the health crisis keeping us indoors for more time than ever, we're spending loads more time with our four-legged friends.
It's likely that Her Majesty the Queen is doing the same with her beloved corgi and daschund crosses, Candy and Vulcan.
But according to the royal pups' trainer, the country's dogs may suffer from "severe social anxiety" when our usual lives resume.
Dr Roger Mugford explained, "With such an overload of quality time with their families, dogs are building up a huge reservoir of over-dependency which could see them suffer when mums and dads suddenly return to work and the children go back to school.
"When left alone, dogs can chew the house, annoy the neighbours by constantly barking, urinate and defecate inside, sometimes even self harm. Put a webcam on your dog and you'll see howling and pacing and other distress signs."
Speaking to The Times, the animal psychologist recommended practising spending time away from animals now by leaving them alone for 30 minutes at a time a few times a day, so that it doesn't come as a shock when the have their homes to themselves again.
Dr Mugford helped to tame the Queen's pets when she was owner to eight or nine corgis.
The canine pro was called in to help mediate the "dangerous" fights going on between the horde of animals.
He's confessed that Her Majesty, who received her first corgi Susan as an 18th birthday present, is an "amazing" dog owner.