Queen reportedly said 'Thank goodness Meghan isn't coming' to Prince Philip's funeral, new book claims
A new book claims the Queen was relieved Meghan couldn't make the funeral, telling aides, 'Thank goodness Meghan is not coming'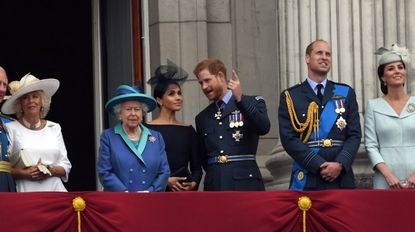 (Image credit: Anwar Hussein/Getty Images)
The Queen is reported to have been relieved that the Duchess of Sussex couldn't attend the funeral of Prince Philip, allegedly telling aides "Thank goodness Meghan isn't coming." The latest claims come ahead of the release of a new book about the Duke and Duchess of Sussex. However, sources allegedly close to the Queen have questioned the validity of this, insisting Her Majesty's focus would've solely been on the funeral.
A new book by investigative reporter Tow Bower alleges the Queen was overheard expressing relief that Meghan Markle couldn't attend the funeral of Prince Philip
Tom's book, titled Revenge, is about Prince Harry and Meghan and includes new revelations from palace sources
---
Tom Bower, a writer and reporter who has previously written unauthorised biographies of Robert Maxwell, Mohamed Al-Fayed, Richard Branson, and Boris Johnson, has written a new book about the Duke and Duchess of Sussex.
The explosive book is titled Revenge and includes new allegations and revelations about the strained relations between Harry, Meghan and the Royal Family.
One story, which has been released early and is being serialised in British newspapers, alleges that the Queen told aides of her relief that Meghan couldn't attend Prince Philp's funeral last year.
Meghan had to miss the funeral, staying in California on doctor's orders as she was pregnant.
Harry, however, did fly back to the UK for his grandfather's funeral.
In the new book, the Queen is reported to have said in a "clear voice" that she was glad Meghan couldn't attend, telling aides "thank goodness Meghan is not coming."
While the Palace is notorious for not responding to stories – true to their famous motto of "don't complain, don't explain" – some sources close to the Queen have already raised doubts about this though.
Referring to the "non-specific" claims, sources close to Her Majesty have posed whether her focus would be on anything other than her husband on the difficult day of his funeral, in which she had to sit alone due to the coronavirus lockdown restrictions.
This isn't the only revelation to be brought to light by the book, there are also suggestions Harry used his secret visit with the Queen before the Invictus Games to beg for an appearance on the balcony.
However, his actions after meeting the Queen drove the wedge with his family deeper.
After reuniting with his grandmother, Harry spoke with TV reporters about his "special" relationship with the Queen, implying that the Queen confided in him secrets unknown to others of her family.
He took this further, stating he felt it was his duty to ensure his grandmother was "protected and got the right people around her".
The book implies that, Charles, Anne, William and the Queen's staff inferred that Harry was suggesting they were inadequate for the task.
Dubbed as "breathtaking arrogance" with "no bounds to his self-delusion", Harry's comments were later refuted by Britain's Downing Street, who released a statement saying the Queen was, indeed, well looked after.
Tom Bower's book, Revenge, will be released on July 21.
Jack Slater is not the Last Action Hero, but that's what comes up first when you Google him. Preferring a much more sedentary life, Jack gets his thrills by covering news, entertainment, celebrity, film and culture for woman&home, and other digital publications.
Having written for various print and online publications—ranging from national syndicates to niche magazines—Jack has written about nearly everything there is to write about, covering LGBTQ+ news, celebrity features, TV and film scoops, reviewing the latest theatre shows lighting up London's West End and the most pressing of SEO based stories.