Queen Elizabeth II's former press secretary Dickie Arbiter reflects on his experience working for Her Majesty for 12 years
Queen's former press secretary Dickie Arbiter pays tribute to Her Majesty, who died aged 96, exclusively shares the side we never saw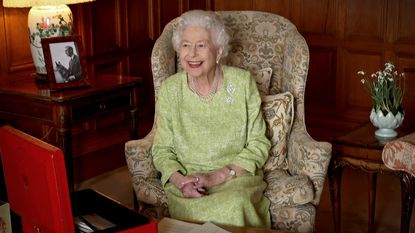 (Image credit: Chris Jackson/Getty Images)
The Queen's former press secretary Dickie Arbiter had unprecedented access to the Royal Family. On top of his 12 years as Her Majesty's press secretary, he was also media manager for Prince Charles and the late Princess Diana. Speaking exclusively to woman&home, he recalls his life as a one-time courtier and pays tribute to the woman behind the crown.
The Queen's former press secretary Dickie Arbiter remembers Her Majesty after she died aged 96 on September 8, 2022.
He shares the side of the Queen few saw, including the 'country woman' behind the title and what really went on behind closed doors during his 12-year career.
---
To millions around the world, and particularly in the Commonwealth, Queen Elizabeth II featured prominently in our lives for more than seven decades. I was fortunate and honored to have worked for her on the Buckingham Palace press team - something I could never have imagined in my formative years.
The first time I saw The Queen, or Princess Elizabeth as she was in June 1947, was a couple of months after her memorable 21st birthday speech in which she said, "I declare before you all that my whole life, whether it be long or short, shall be devoted to your service." She was riding with her father, King George VI, to Trooping the Colour, the first after World War II.
The Queen and Dickie's first meeting
It was at a reception for the traveling British media at the start of her 1984 tour of Jordan, that I first met The Queen. I subsequently met her in Beijing at the beginning of her historic 1986 visit to China and again in Perth at the onset of her 1988 bi-centennial tour of Australia.
I worked for Her Majesty from 1988 to 2000, and within weeks of starting as one of her press secretaries, I was summoned to a forty-eight-hour dine-and-sleep at Balmoral Castle.
Upon arrival, and dodging the downpour, the duty footman requested that I presented myself in the lobby in half an hour as I was going on a picnic with The Queen. My look must have spoken volumes, but he put my mind at rest by telling me the picnic was in a log cabin.
The Queen drove me to the cabin high on a hill overlooking Loch Muick. Just four of us sat down to lunch - the Queen, Prince Philip, the on-duty lady-in-waiting, and me. It was a picnic in every sense of the word with Her Majesty and her lady-in-waiting laying the table and setting out the Tupperware, full of picnic food. Lunch lasted about forty-five minutes, alas I have absolutely no recollection of the conversation, but I do remember at the end the Queen said we had to clear up.
I took that as my cue to begin the washing up. No sooner had I started than I heard footsteps and, thinking it was the lady-in-waiting coming to give me a hand, I casually said over my shoulder, "okay, I'll wash you dry," but it was not the lady-in-waiting. The Queen washed up and I dried, and no, she did not wear rubber gloves to protect her hands. The picnic was the first of many meals I would have with the Queen over the years I worked for her.
As my Balmoral time ticked away, I came to realize the kind of lady she was. Yes, she was Head of State, Head of Nation, and Head of the Commonwealth, but as a person, she was a no-frills and no-fuss lady, simply put, down-to-earth and a country woman at heart.
The Queen's greatest losses
Brought up in a generation where it was bad form to show personal emotions in public, the Queen would have used all her willpower to maintain dignity following the death of her father George VI in February 1952.
So too, 50 years later, in a year when the UK and the Commonwealth were about to celebrate her Golden Jubilee, she mourned the loss of her sister Princess Margaret in February 2002 and of her mother, Queen Elizabeth, seven weeks later.
The biggest test of her courage came during the global Covid-19 pandemic, April 2021 to be precise, and the death of Prince Philip. Who can forget the solitary figure of Her Majesty, following the social distancing rules, in the choir of St George's Chapel, Windsor? The Queen looked solitary, sitting alone, as she bade farewell to Prince Philip her, 'strength and stay,' and husband of 73 years. Devasted as she was, she kept her emotions in check.
The Queen's 'stoicism and pragmatism' after Princess Diana's death
One of the Queen's most challenging times was following the death of Diana Princess of Wales in August 1997. Throughout the week leading up to the funeral, she had had to endure a vicious and negative press.
Upon returning to London, she with Prince Philip, paid their respects to the Princess lying at rest in The Chapel Royal, St James' Palace. This was followed by a walkabout outside Buckingham Palace where they talked to mourners and viewed the floral tributes banked up against the Palace's railings.
Although the mood was somber, the Queen was received with polite applause. Walking Her Majesty back to her car we briefly made eye contact. Hers sought reassurance, that her presence had been appreciated, and I assured her it was. It was then that I realized I had witnessed stoicism and pragmatism.
The Queen's unwavering sense of humor
For seven decades Her Majesty did an amazing job. In times of triumph and tragedy, she never put a foot wrong. Her reign was happy and glorious, marked by devotion to duty.
In all the years I worked for her we very occasionally exchanged banter, her sense of humor always coming to the fore.
The last time I was in conversation with Her Majesty was at a farewell reception for one of her private secretaries. As I took my leave, she said with a mischievous twinkle in her eye, "I see you're still wearing those dreadful ties."
Rest in peace Ma'am
Royal expert Dickie Arbiter is a global broadcaster and journalist with over fifty years of experience. These years have been spent covering royalty, heads of state, and other globally recognized personalities. He is best known for being the most in-demand of all the former press secretaries to HM The Queen. He worked at the Palace from 1988 to 2000 and retired from duty in 2000. Dickie's memoirs, On Duty with the Queen, were published by Blink in Oct 2014.