Princess Anne wears symbolic star brooch on Northern Ireland trip, and it's not the only one in her collection
Princess Anne's star brooch could carry powerful symbolism, according to experts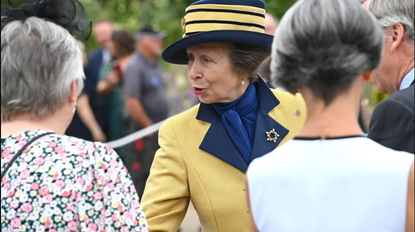 (Image credit: Twitter)
The Princess Royal donned a colorful ensemble for a visit to Hillsborough Castle in Northern Ireland. Her outfit was completed with a sophisticated, star-shaped brooch which one jewelry expert suggests could be loaded with symbolism.
Princess Anne stunned in a bright, yellow ensemble topped off with a gorgeous yellow gold star brooch.
Though few details are known about the brooch, the star shape could be symbolic, especially as the Princess Royal has other star-shaped pieces in her collection.
---
Princess Anne made a surprise visit to Northern Ireland's Hillsborough Castle earlier in the week, in the first garden party to be held on the estate since the outbreak of the coronavirus pandemic.
Hillsborough Castle estate serves as home to the Secretary of State for Northern Ireland, and is the official residence for the Queen and other members of the Royal Family when they visit.
Anne took the lead from one of the Queen's first successes and wore a bright, bold ensemble – something her mother is said to have done to show that women can embrace femininity while being powerful.
Anne's outfit included a warm yellow coat and a navy skirt, but the focal point was the yellow gold brooch sitting on her lapel.
Maxwell Stone, creative director of luxury jewelry company Steven Stone, estimates that the yellow gold star-shaped brooch is worth approximately $30,000.
He described the interesting piece as a "yellow gold, interwoven heirloom" noting that, "interestingly, the yellow gold doesn't shine, which suggests that it's brushed or matte."
Touching on what stars represent when it comes to jewelry, he added, "In the shape of a star, each corner features three diamonds. Though it's unknown who gifted the piece to the Princess Royal and if it represents anything specifically, stars burst with symbolism – representing motivation, guidance, protection, wishes and spirituality."
A five–pointed star is often representative of a divine symbol of oneness, the top representing human spirit whilst the other four signify the elements. It represents the connection between human spirit and Mother Nature.
It can also symbolize a human body or incarnation of Jesus Christ. Like her mother, the head of the Church of England, religion is an important aspect of life for Anne.
While details around this brooch are unknown, Anne has other star-shaped pieces in her collection, suggesting the shape could be a personal favorite.
Anne also has a diamond star brooch, something which has been in her jewelry collection for more than half a century. She began wearing it around 1970, the year she turned 20.
The brooch is designed as a six-pointed star. One of the star's points is slightly longer than the others.
Six brilliant diamonds are arranged around the star on a knife's edge setting. A second six-pointed star is mounted atop the main portion of the brooch, with a brilliant diamond set in its center.
This special star brooch is usually reserved for the most special of occasions, including during a state visit from Grand Duke Jean and Grand Duchess Josephine Charlotte of Luxembourg in June 1973 and during the Festival of Remembrance each year.
Jack Slater is not the Last Action Hero, but that's what comes up first when you Google him. Preferring a much more sedentary life, Jack gets his thrills by covering news, entertainment, celebrity, film and culture for woman&home, and other digital publications.
Having written for various print and online publications—ranging from national syndicates to niche magazines—Jack has written about nearly everything there is to write about, covering LGBTQ+ news, celebrity features, TV and film scoops, reviewing the latest theatre shows lighting up London's West End and the most pressing of SEO based stories.