Princess Anne has revealed what she really thinks of Neflix's The Crown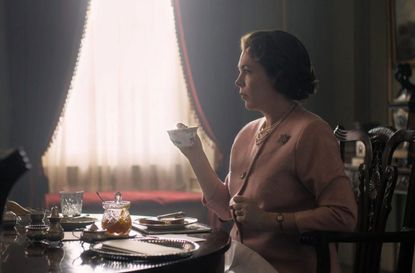 (Image credit: The Crown)
Princess Anne has had her say on Netflix smash hit, The Crown.
The award winning drama that depicts the life of Queen Elizabeth II and the royal family has been a firm TV favourite for royal fans ever since the first series was released back in 2016.
And anyone who's ever devoured the epic portrayal of the Queen's reign has no doubt wondered if the monarch herself or any members of the royal family have ever watched it.
While Prince William assured Olivia Colman, who plays the Queen in series three of The Crown, assured her that he's never watched it, Princess Anne has now had her say.
In an ITV documentary made to celebrate the Princess Royal's 70th birthday, the mother-of-two and equestrian pro shared her opinion on The Crown.
Admitting she's seen few snippets of the show, Anne described them as "quite interesting", but it's the actress who plays her in series three that she had most to say about.
Commenting on a rumour she has heard that it takes Erin Doherty two hours to achieve her famously voluminous hair, Anne laughed, "Actually I read an article the other day, I don't watch Netflix and The Crown, but the actress was talking about how long it took them to do her hair like I did, and I'm thinking, 'How could it possibly take that long?' I mean it takes me 10 or 15 minutes."
Describing the process of transforming into the young Princess Royal, Erin once said, "Make-up literally took 10 minutes, but hair, sometimes it would take two hours.
"It's its own beast. Literally, I would sit in the chair, people would come in and go and come in and go, and I sat still in the same place," she told Town and Country.