Princess Anne and Duchess of Cornwall share a smile as Camilla gives her sister-in-law a huge honour
Congratulations to the Princess Royal!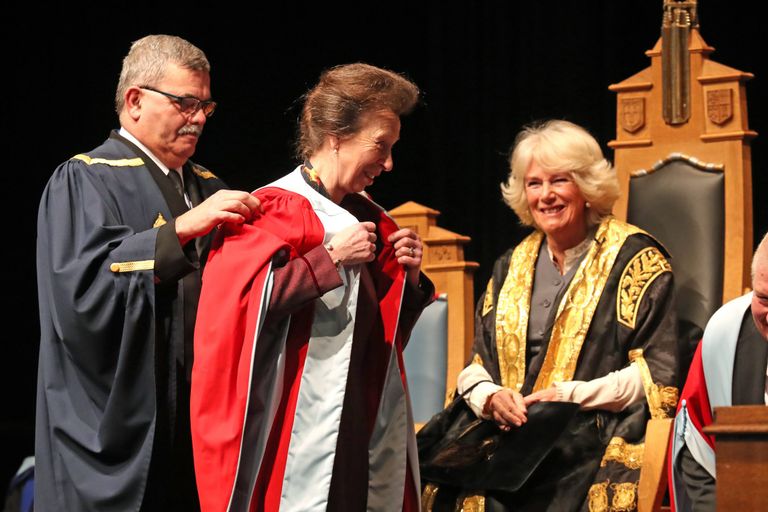 On Tuesday, The Duchess of Cornwall (known as the Duchess of Rothesay whilst she's in Scotland) conferred an honorary degree upon her sister-in-law Princess Anne.
It was a special day for Princess Anne and sister-in-law Duchess Camilla, as the pair travelled to the University of Aberdeen for a special royal engagement.
In her role as the University's chancellor, Duchess Camilla conferred Princess Anne with an honorary degree, and the royal shared a sweet smile and laugh as Camilla gave her the degree.
Anne even appeared to bow to her sister-in-law, while Camilla smiled up at her.
Camilla and Anne even left the even together, chatting as they walked to their car. These two are clearly good friends!
The University of Aberdeen nominated Princess Anne in recognition of her outstanding charity work, which has spanned for decades.
The Princess Royal is very active with charity organisations in her role as a royal - in fact, in recent years she's often completed the most engagements each year out of all the members of the royal family.
According to the Royal Family website, Princess Anne is involved with over 300 charities, organisations and military regiments in the UK and overseas, devoting a large part of her working life to official engagements and visits.
Many of these involve Scotland, making the University a particularly fitting place for Princess Anne to receive her honorary degree.
An official statement from the University of Aberdeen reads, 'The Princess Royal has made a simply outstanding contribution to public life and sport for more than four decades and much of her work relates to education and charities based in Scotland.'
During this ceremony, Denis Law was also awarded the Principal's Award for Outstanding Service to the Community.
The Aberdeen-born former footballer was awarded alongside Graham Thom, who is chairman of the Denis Law Legacy Trust.
Principal and Vice-Chancellor of the University of Aberdeen, Prof George Boyne, said he was "delighted" those "acting in the service of others" were recognised during the ceremony.