Prince William's heartbreaking question after 'earthquake' moment he found out Princess Diana was dead
Prince William had a devastating question stuck in his head after the earth-shattering moment he found out Princess Diana had died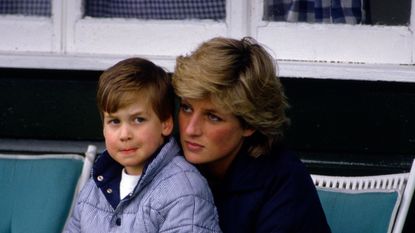 (Image credit: Getty Images)
Prince William's once revealed the devastating question that haunted him after he found out his mother, Princess Diana, had died.
As the world marks 25 years since the tragic death of Princess Diana in 1997, details of the moment Prince William heard the life-changing news are being recalled.
The future King once opened up about the 'earthquake' moment that he found out his mother had been killed in a Paris car crash and recounted the sad question running through his mind in the aftermath.
In other royal news, the heartbreaking reason Prince Harry and Meghan Markle rarely share photos of Archie and Lilibet (opens in new tab) has been revealed.
---
As part of 2017's Diana: Our Mother documentary, Prince Harry and Prince William candidly opened up about the harrowing loss of Princess Diana.
Despite London's Kensington Palace being their home at the time, Harry and William were with the Queen at Balmoral Castle (opens in new tab) in Scotland at the time of Diana's death.
Touching on the haunting day they lost her, Prince William, who was 15-years-old when the accident happened, said, "I remember just feeling completely numb, disorientated, dizzy. You feel very, very confused."
William also shared the painful questions circling his mind after the loss, adding, "And you keep asking yourself, 'Why me?' All the time, 'Why? What have I done? Why? Why has this happened to us?'"
Meanwhile, Prince Harry, who was 12 at the time, spoke about his final conversation with his mother on the phone, confessing that he will regret it forever.
"I can't really, necessarily, remember what I said. But all I do remember is probably, you know, regretting for the rest of my life how short the phone call was," Harry confided in the touching interview.
"If I'd known that was the last time I was going to speak to my mother – the things I would have said to her."