Prince William reflects on 'leading two different lives' as he opens up about blocking loved ones from 'who you are'
Prince William served in the East Anglian Air Ambulance for two years.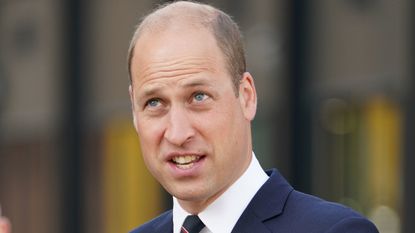 (Image credit: Photo by Andrew Milligan - WPA Pool/Getty Images)
Prince William has got candid about being an emergency responder before taking on royal duties full time as he revealed it can sometimes feel like you're leading "two different lives".
The Duke of Cambridge worked in the East Anglia Air Ambulance service for two years before becoming a full-time royal.
In a new video, Prince William chatted to two emergency responders about their experiences and revealed how you can end up "blocking your loved ones out".
---
In a new video shared on the Duke and Duchess of Cambridge's YouTube channel, Prince William chatted with emergency responders Will and Chloe about mental health and support. Despite being second in the royal line of succession, he served as an emergency responder himself in the East Anglia Air Ambulance service and has previously recalled being traumatized for "weeks on end" during his pilot days.
The film was played at a Symposium on November 25th, attended by 200 leaders from across fire, ambulance, police, and search and rescue to address the mental health of their workforces. During their discussion, emergency responder Will spoke out about how often it's "very difficult" for family members to process why they wouldn't want to talk about what they'd experienced there and then.
Prince William agreed, going on to explain how in compartmentalising work and home life in this way, emergency responders like he once was often end up leading "two different lives".
"People want to protect their families and their loved ones from, you know, horrendous and horrible and very sad things, but you're leading two different lives," he declared. "And you're blocking your loved ones out from a very important part of who you are and who you're becoming."
The Duke of Cambridge then expressed his belief that more training is needed in order to help emergency responders manage this element of their work.
"So there's nothing in the training to really promote that is there?" he asked Will and Chloe. "We're meant to individually adapt and so it depends on what your background is. You might not have the toolbox you need to deal with all these things. So, you know, we need the training and we need the education to help."
In a heartbreaking moment, Prince William also went on to explain how when he was an Air Ambulance pilot from 2015-2017, any call-out that involved children hugely affected him. He expressed his belief that it did so more than it might've done had he not been a proud father-of-three.
"There were a number of times where I was just getting too involved in it and feeling it," he said. "Going to talk to someone else after the event was really important but it continues. It doesn't leave you there, you just manage it better."
The Duke feels privileged to work with the Air Ambulance Service #NAAW2016 pic.twitter.com/0GM9XUAlgySeptember 20, 2016
See more
Prince William went on to retire from the East Anglia Air Ambulance service in 2017 as he prepares for his future role as king. Despite the many challenging moments he's experienced throughout his time with the service, it's one he remains steadfastly proud of.
In a statement on the Royal Family's official website, Prince William declared, "I have loved being part of a team of professional, talented people that save lives every day. My admiration for our country's medical and emergency services community could not be any stronger."