Prince William just melted our hearts recalling this sweet moment with Charlotte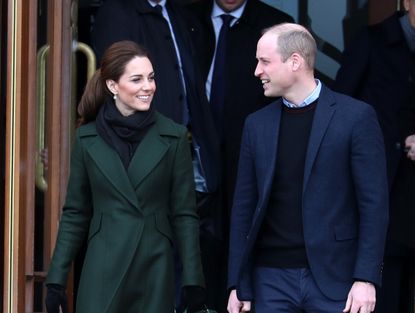 Prince William and Catherine took a trip to Blackpool this week and during their visit, the Duke of Cambridge revealed how he struggles to help his daughter, Princess Charlotte, with her hair.
Doing your child's hair is no easy task and it seems Prince William finds it as difficult as the rest of us.
According to People, whilst chatting with a fellow father, Prince William said, "Never try to do a ponytail! Nightmare!"
His wife, the Duchess of Cambridge, asked if he had every tried a plait.
Prince William revealed he can do a ponytail for Princess Charlotte and added, "but that's about it as I don't have enough hair to practise on!"
Hats off to William for trying!
It's thought the dad who spoke to Catherine and Prince William admitted he used Youtube tutorials to help style his daughter's hair so maybe the Duke of Cambridge should have a look online if he wants to improve his hairdressing skills.So next time you see Princess Charlotte, her hairstyle might be the work of Prince William himself!
Kensington Palace shared a message on social media with details of the couple's visit, saying 'The Duke and Duchess of Cambridge are in Blackpool to visit innovative projects focused on investment and regeneration — and to learn how the resort is leading the way in tackling some of the social and mental health problems faced by people in Britain today. #RoyalVisitBlackpool'
Royal fans shared their enthusiasm for the couple's work with one person saying, 'Brilliant I look forward to seeing the organisations they'll visit' while another person said, 'Amazing work.'
A final person made a light hearted comment about the weather saying, 'Wouldn't be a true British seaside visit without rain.'
During their visit to Blackpool, the Duke and Duchess of Sussex met with members of the public during a trip to the iconic Blackpool Tower.
The couple also learnt about Blackpool's recent history whilst attending a roundtable briefing.
Rachel Howatson is a digital writer who works across a range of publications. Whatever your passion, whether it's hillwalking, cooking, gardening, running, socialising or even sleeping, she'll likely have written about it.