Prince William can 'no longer hide' his anger at Meghan Markle for disrespecting the Queen
Prince William was reportedly 'angry' about Meghan Markle's behavior for over a year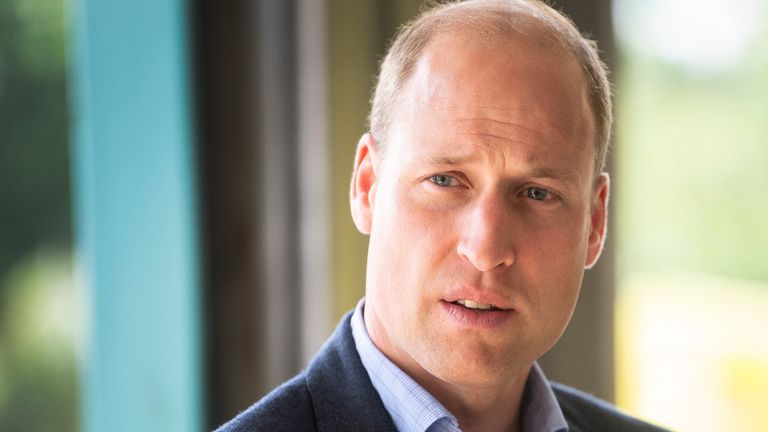 (Image credit: Photo by Victoria Jones-WPA Pool/Getty Images)
Prince William can reportedly "no longer hide" his true feelings about Meghan Markle, Duchess of Sussex, after she attempted to "disrespect" the Queen and Royal Family.  
Prince William and Prince Harry have once more been surrounded by rumors of a rift in the aftermath of Harry and Meghan's astonishing Oprah interview. 
Now it's claimed that the "biggest strains" actually exist between William and Meghan after she attempted to "disrespect" the Queen and Royal Family and made comments about Kate Middleton.   
---
Prince William and his brother Prince Harry's relationship has long been under the spotlight, as so-called Megxit, followed by Harry and Meghan's shocking Oprah interview, inspired rumors of tension between them. However, it's now been suggested that William's anger is just as directed at Meghan. 
This comes as the Royal Family continue to handle the aftermath of the Sussexes' Oprah interview revelations, which included Meghan's claim that an unnamed royal commented on Archie's skin color before he was born. The Duchess of Sussex also cleared up the speculation that she made Kate Middleton cry, telling her side of the story and suggesting it was the other way around. 
Though it seems this comment has not endeared her to William. Writing for MailOnline, columnist Dan Wootton stated: "Wills was angry about the behaviour of his sister-in-law for well over a year.
"And that was before she sat down with Oprah Winfrey to attack his beloved wife and then accuse his flesh and blood of racism and uncaring behaviour towards someone with mental health issues."
A senior royal insider reportedly told the publication that, "Much has been made of the troubles between Kate and Meghan, and William and Harry—but perhaps the biggest strains now exist between William and Meghan.
"First and foremost, William cannot countenance the way Meghan has treated his wife," the insider continued, before suggesting that despite Kate attempting to help Meghan navigate royal life, her efforts were "constantly misinterpreted".
They added: "But to name Kate so publicly during the Oprah interview as the person who made her cry was beyond the pale. Meghan would have been acutely aware that Kate is powerless to fight back."
And it seems that Meghan's comments about Kate were not the only reason for potential discord between her and William. 
While William supposedly had his "reservations" about Meghan for a while, it was her and Harry's decision to step back as senior members of the Royal Family that really changed things.
"Following Megxit though, everything changed", another insider claimed. "He could no longer hide his true feelings because he felt like she had publicly attempted to disrespect his family and the Queen."
Prince Harry and Meghan have since confirmed they will not be returning as working royals. And while William might perceive the couple's actions as disrespectful to the Queen and the Royal Family, Harry expressed a different opinion to Oprah.
When asked whether he surprised his grandmother with Megxit, he responded: "I've never blindsided my grandmother, I have too much respect for her."
Though Harry and William publicly reunited at Prince Philip's funeral this month, Meghan was advised against traveling by her doctor. 
It has now been over a year since Meghan and William saw each other in person and it's not yet known when they may do so again.