Prince William and Kate Middleton's wedding cake designer shares Queen's quick-witted joke
Prince William and Kate Middleton's wedding cake designer has revealed her hilarious interaction with the Queen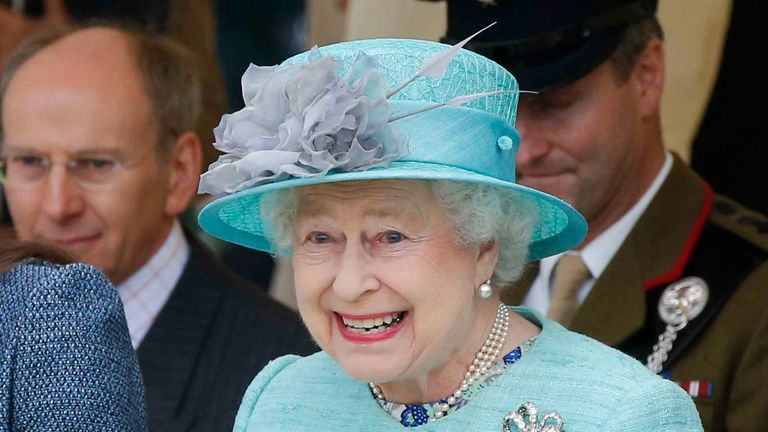 (Image credit: Phil Noble - WPA Pool/Getty Images)
Prince William and Kate Middleton's wedding cake designer has shared her hilarious interaction with the Queen in the run-up to the big day. 
Fiona Cairns, the creator of Prince William and Kate Middleton's  2011 wedding cake, has shared an unforgettable encounter she had with the Queen before the big day. 
The hilarious interaction occurred in Buckingham Palace while Fiona and her team were assembling the eight-tiered wedding cake.  
Baking a royal wedding cake is no easy feat – especially when your beautiful creation doesn't fit inside the palace. 
That's exactly what happened to Fiona Cairns, the brainchild behind Prince William and Kate's iconic wedding cake, when she attempted to transport the finished product into the Queen's official London residence. 
The baking expert shared the ordeal in the latest ITV royal documentary, The Day Will and Kate Got Married, recalling one hilarious encounter with Her Majesty in particular. 
In the week before the wedding, Fiona transported the cake in 40 boxes from her factory in Leicestershire to Buckingham Palace, where she and her eight-person team planned to assemble it. The laborious process to put together the three-foot masterpiece took two and a half days, as well as some unexpected home renovations. 
"We had to take a door down from the room below, for the trolley to go through with the cake," Fiona revealed. This DIY alteration didn't go unnoticed by the Queen, who was quick to remark on the missing door.
"I can remember her saying, 'I hear you've been dismantling my house,'" Fiona recalled. Fortunately for Her Majesty, the removal of the door was only temporary. "It was all put back in the end, so it was fine!"
Kate had asked Fiona to make the cake in February, giving her just two months to work on the lofty project. The esteemed baker was excited yet nervous about the challenge, admitting she had 'sleepless nights' in the run-up to the wedding. Kate was adamant about keeping the cake traditional, requesting a classic fruit sponge iced with cream and white frosting. She also asked for a piece of lace from her wedding dress to be replicated on the cake.
Fiona and her team got to work on the assignment straight away. Fruit cake needs to be baked months in advance for optimal flavor development, so there was little time to waste. 
Shockingly, after all that effort, nobody at the wedding ate the finished cake. 
Instead, Fiona and her coworkers cut 600 slices of a second fruitcake for the breakfast on the wedding day. Another 4,000 slices baked by Fiona were packed up in Prince of Wales tins and distributed as gifts.