The reason the royals won't be celebrating Prince Philip's birthday this week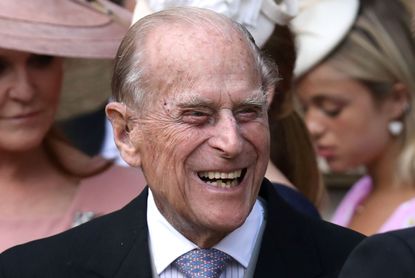 (Image credit: AFP via Getty Images)
Prince Philip turns 99 this week, but the Royal Family won't be celebrating as the country continues to battle the coronavirus pandemic.
It's no surprise that Prince Philip won't be able to celebrate his birthday in style, as the country remains in lockdown.
But it seems even if he was able to, Prince Philip wouldn't be having any lavish celebrations.
Why doesn't Prince Philip like to celebrate his birthday?
Royal expert Richard Fitzwilliams has revealed how Philip isn't a fan of fuss.
He said, "Prince Philip has always been famed for disliking being fussed over.
"When he turns 99 on Wednesday it will be no different, though he would, one feels, appreciate some form of celebration when he turns 100 next year.
"That is something for us all to look forward to.
"His joy this year will be to celebrate it with the Queen, reportedly there are no special plans to mark the occasion other than the two of them lunching together."
But the Duke won't escape fuss altogether, as other members of the Royal Family are likely to get in touch from afar.
Richard added, "However, it is possible that the occasion might be marked by the release of a photograph or even a brief appearance.
"The Duke has always been a moderniser and fond of technology and I suspect he will enjoy communicating virtually in various ways with other members of the royal family enormously.
"He might take a mischievous delight in any technical faults that might occur during the calls!"
Prince Charles, who battled coronavirus in March, recently opened up about not being able to see his father during lockdown.
He said, "I haven't seen my father for a long time. He's going to be 99 next week, so yes, or my grandchildren or anything. I've been doing the Facetime, is all very well but...
"It's terribly sad but fortunately at least you can speak to them on telephones and occasionally do this sort of thing.
"But it isn't the same is it. You really want to give people a hug."
Robyn is a celebrity and entertainment journalist and editor with over eight years experience in the industry. As well as contributing regular to woman&home, she also often writes for Woman, Woman's Own, Woman's Weekly and The Sun.