Prince Harry talks HIV as he admits he feels 'obligated' to continue Princess Diana's 'unfinished' activism
Prince Harry spoke candidly about Princess Diana's HIV/AIDS work in a new interview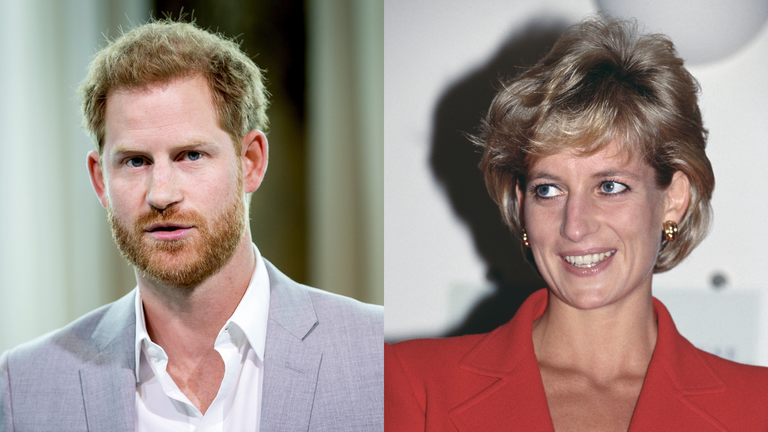 (Image credit: Getty)
Prince Harry has revealed he feels 'obligated' to continue Princess Diana's HIV and AIDS work, in the hope of ending the disease's stigma and encouraging Brits to get tested.
Prince Harry has vowed to continue Princess Diana's HIV and AIDS activism, admitting that he feels 'obligated' to 'finish the job' of his late mother.
The Duke of Sussex spoke to Welsh rugby player and HIV activist Gareth Thomas to promote National HIV Testing Week in a new video on Thursday.
---
Prince Harry has spoken out about the importance of HIV education and testing, promising to continue Princess Diana's 'unfinished' activism in the field.
On Thursday, the Duke of Sussex joined Gareth Thomas for a virtual discussion to raise awareness of the Welsh rugby player's campaign, TackleHIV, and to encourage the public to get screened for the virus.
During the candid video conversation, Harry recalled how his late mother worked tirelessly to destigmatize the disease in the 1980s and 1990s by refusing to stay silent on the matter.
"What my mum did and what so many other people did at that time was to smash that wall down, to kick the door open and say, 'No, when people are suffering, then we need to learn more,'" he said. "'And if there's a stigma that's playing such a large part of it, then what we really need to do is talk about it more.'"
NEW: Prince Harry and @gareththomas14 in conversation to mark National #HIVTestingWeek with @TackleHIV."My mum's work was unfinished," says The Duke. "I feel obligated to try and continue that as much as possible."His advice is clear: get tested.https://t.co/ptVySN5BqcFebruary 10, 2022
See more
Princess Diana was widely known for her HIV/AIDS activism, becoming the first British royal to hold hands with an AIDS patient and speak publicly about the widely misunderstood health condition. She also opened the UK's first HIV/AIDS clinic in Middlesex in 1987 and later became the official patron for the National AIDs Trust.
Harry, 37, admitted that his mother's unapologetic HIV/AIDS work "made some people uncomfortable", before adding, "Stigma thrives on silence."
While he did not name any names, it's been widely reported that the Queen did not support her daughter-in-law's efforts to combat this stigma.
A 2008 inquest into the death of the Princess of Wales claimed that Diana told her bodyguard, Ken Wharfe, that "'the Queen doesn't like me getting involved with AIDS and leprosy.'" It was also revealed that Diana was angry after Her Majesty asked her, "Why can't you get involved with something more pleasant?"
Past generations started the battle with HIV but this one could finish itIn an exclusive chat, Gareth Thomas sits down with Prince Harry, The Duke of Sussex to talk about how far we have come, how far we have to go & the importance of testingWatch now: https://t.co/aaBIu37YwG pic.twitter.com/PMwxaGbFJhFebruary 10, 2022
See more
Diana was particularly committed to fighting misinformation surrounding the disease, routinely dispelling the myth that all physical contact puts an individual at risk of infection.
"HIV does not make people dangerous to know. You can shake their hands and give them a hug," she said after opening the Middlesex unit. "Heaven knows they need it. What's more, you can share their homes, their workplaces, and their playgrounds and toys."
Prince Harry also said that Diana's work was "unfinished" and that he feels "obligated to try and continue that as much as possible."
"I can never fill her shoes, especially in this particular space," he added, but insisted that he was determined to "finish the job" started by his mother all those years ago.
"If there's a way out of it, and we know there's a solution, I'm like a typical guy, I just want to help fix things."
Emma is a news writer for woman&home and My Imperfect Life. She covers the Royal Family and the entertainment world, as well as the occasional health or lifestyle story. When she's not reporting on the British monarchy and A-list celebs, you can find her whipping up vegan treats and running the roads to cheesy '90s pop music...but not at the same time, obviously.