Prince Harry and Meghan Markle to stop using 'Sussex Royal' name from spring 2020
New changes are coming...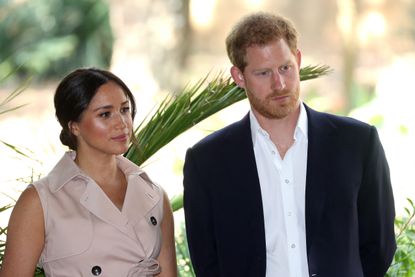 The Duke and Duchess of Sussex will stop using the name "Sussex Royal" from spring 2020.
As a result, the couple will no longer be naming their new foundation "Sussex Royal".
A statement released on Friday confirmed that trademark applications from Prince Harry and Meghan had been removed.
A spokesperson for the couple said, "While The Duke and Duchess are focused on plans to establish a new non-profit organisation, given the specific UK government rules surrounding use of the word 'Royal', it has been therefore agreed that their non-profit organisation, when it is announced this Spring, will not be named Sussex Royal Foundation.
"The Duke and Duchess of Sussex do not intend to use 'SussexRoyal' in any territory post Spring 2020.
"Therefore the trademark applications that were filed as protective measures, acting on advice from and following the same model for The Royal Foundation, have been removed."
The news comes after it was reported that the Queen had told the couple not to use the name "Sussex Royal" following their decision to step back as senior royals, earlier this year.
According to the Mirror, the Queen drafted in top lawyers to enforce this ban, which is based around the UK law prohibiting the use of the word "royal" for financial gain.
The ban is likely to come as a blow for the couple, who put a lot of money into launching their Sussex Royal-branded website and creating a hugely popular Instagram feed @sussexroyal.
It's been confirmed that the couple will return to the UK in late February for a series of engagements - the first of which will be alongside singer Bon Jovi.
Lizzie Thomson is a regular contributor to woman&home, and also contributes to Metro.co.uk, Ideal Home, Culture Trip, and Evening Standard, covering all things lifestyle.