The incredibly emotional reason everyone is talking about this video of Prince Harry and Meghan Markle
'I genuinely teared up at this...'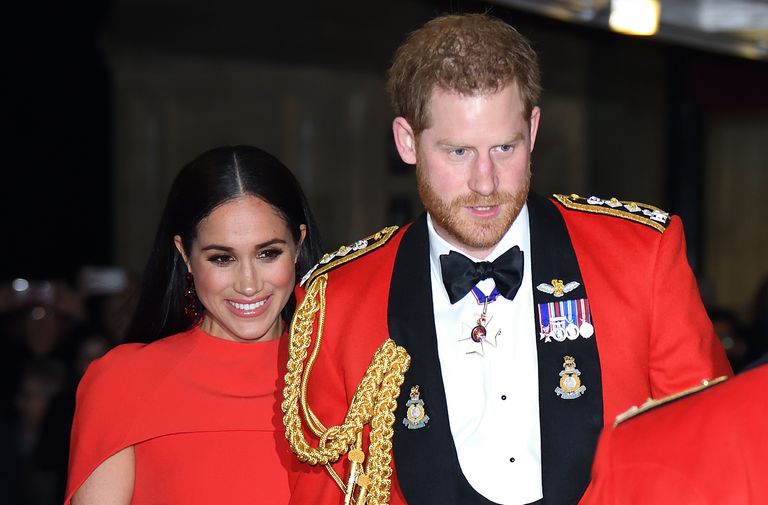 (Image credit: WireImage)
Prince Harry and Meghan Markle have been busy this past few days with the last royal engagements before they officially step down from their roles, which included attending the annual Mountbatten Festival of Music over the weekend.
The event was very emotional for Prince Harry, as it was the last time we will see him wearing his military uniform for a while.
The two were spotted comforting each other during a standing ovation at the start of the event, and royal fans can't get enough of the sweet video.
This follows royal news that they also had a very emotional moment at another royal event.
The power duo have had a busy schedule during their return to the UK, as they make several appearances before officially stepping down from their roles at the end of the month.
One event on the agenda was the annual Mountbatten Festival of Music at the Royal Albert Hall, which marked the 75th anniversary of the end of the Second World War and the 80th anniversary of the formation of Britain's Commandos.
READ MORE: Where to get a £45 replica of Duchess Meghan's gorgeous blue dress
Meghan dazzled in a gorgeous red Safiyaa cape dress, which she paired with Aquazzura shoes, a Manolo Blahnik clutch, and Simone Rocha earrings.
To add to what no doubt is already an emotional week for the couple, the event was also the last time Prince Harry – who remains the Captain General of the Royal Marines – has worn his military uniform for a while.
Harry agreed to give up all of his honorary military appointments, and the resignation 'from three honorary roles in the military will prevent him wearing uniform at public events such Trooping the Colour and Remembrance Sunday at the cenotaph', according to The Telegraph.
As they arrived at Royal Albert Hall, the pair received a standing ovation and were spotted comforting each other while holding hands.
A video that zoomed in on their interaction was shared on Twitter, alongside the caption, 'Prince Harry and Meghan Markle's love language is out of this world. I felt like I just watched a conversation happen! Imagine having a complicity this strong with someone!'
Many fans of the couple echoed the sentiment, with one commenting, 'It seems they are comforting each other. The over lapping of hands, intermingled fingers that suddenly become dominant than submissive, IN BOTH. ( this shows they have a relationship that is based on PURE TRUST) It is really beautiful to see'.
Another wrote, 'I genuinely teared up at this. This perspective is simply mind-blowing on another level.'
A third added, 'Those hands wrote an entire novel on what love means. Wow.'
How sweet!
Harry and Meghan are due to make their final appearance tomorrow (March 9) at the Commonwealth Service alongside other members of the royal family.