Prince Harry, Meghan Markle and Doria Ragland involved in 'near catastrophic' car chase, spokesperson reveals
Prince Harry and Meghan Markle have announced they were involved in a 'near catastrophic' car chase after being followed by 'aggressive paparazzi'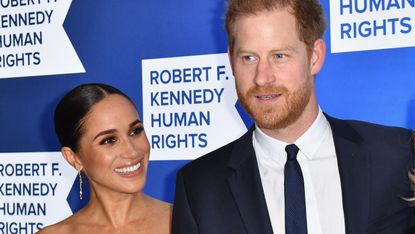 (Image credit: Getty Images)
Prince Harry, Meghan Markle and Doria Ragland were involved in a 'near catastrophic' car chase after being followed by 'aggressive' paparazzi following an awards ceremony in New York last night.
Prince Harry, Meghan Markle, and her mother, Doria Ragland, were involved in a 'near catastrophic' car chase with 'aggressive paparazzi' following a New York awards ceremony last night.
A spokesperson shared a statement stating that Doria and the Duke and Duchess of Sussex were hounded in a 'relentless pursuit' for over two hours, narrowly avoiding collisions with traffic and pedestrians.
This royal news comes after Meghan looked incredible in a gold textured dress for the ceremony that was her and Prince Harry's first major appearance since King Charles's coronation.
---
A spokesperson for Prince Harry and Meghan Markle confirmed that the Duke and Duchess of Sussex and Meghan Markle's mother, Doria Ragland, were involved in a car chase that has been hailed 'near catastrophic' while being followed by photographers in New York last night.
"Last night, the Duke and Duchess of Sussex and Ms Ragland were involved in a near catastrophic car chase at the hands of a ring of highly aggressive paparazzi," the spokesperson said in a statement.
"This relentless pursuit, lasting over two hours, resulted in multiple near collisions involving other drivers on the road, pedestrians, and two NYPD (New York Police Department) officers," the statement continues.
"While being a public figure comes with a level of interest from the public, it should never come at the cost of anyone's safety.
"Dissemination of these images, given the ways in which they were obtained, encourages a highly intrusive practice that is dangerous to all involved."
The New York Police Department later issued a statement saying, "On Wednesday evening, May 16, the NYPD assisted the private security team protecting the Duke and Duchess of Sussex.
"There were numerous photographers that made their transport challenging. The Duke and Duchess of Sussex arrived at their destination and there were no reported collisions, summonses, injuries, or arrests in regard."
The Sussexes are said to have switched from an SUV to a New York taxi, driven by Sukhcharn 'Sonny' Singh, in a bid to get away from photographers.
Mr Singh shared details of the experience, claiming he never felt as though he was in danger during the time Harry, Meghan, and Doria were in his car.
"I don't think I would call it a chase," he told Washington Post.
"I never felt like I was in danger. It wasn't like a car chase in a movie. They were quiet and seemed scared but it's New York, it's safe."
Meanwhile, Buckingham Palace is believed to have declined to comment.
The incident occurred following the Duke and Duchess of Sussex's attendance at the Ms Foundation's Women of Vision Awards, where Meghan was awarded for her "global advocacy to empower and advocate on behalf of women and girls".
The appearance at the glitzy New York awards night marked Harry and Meghan's first major public appearance following the Duke's brief visit to the UK for his father's coronation ceremony.
Prince Harry lost his mother, Princess Diana, in a Paris car crash back in 1997, with the late Princess of Wales having been followed by paparazzi before being involved in a fatal collision.
The Duke of Sussex, who shares son Prince Archie and daughter Princess Lilibet with Meghan, has previously spoken out about his fears of history repeating itself when it comes to his own family.
During his and Meghan's bombshell Oprah Winfrey interview, Prince Harry expressed his regrets over not stepping away from the royal spotlight sooner, in order to protect his wife from the media scrutiny they were facing.
"My biggest regret is not making more of a stance earlier on in my relationship with my wife and calling out the racism when I did. History was repeating itself," he told Oprah.
"My mother was chased to her death while she was in a relationship with someone that wasn't white and now look what's happened. You want to talk about history repeating itself, they're not going to stop until [Meghan] dies."