Prince Harry hits back at 'offensive and false' claims made about him by anti-royal group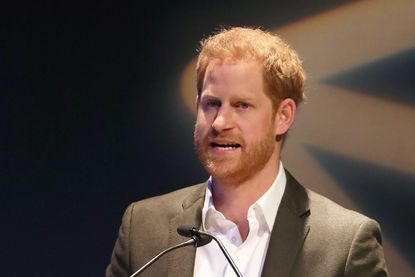 (Image credit: POOL/AFP via Getty Images)
Prince Harry has hit back against claims that he and Meghan Markle's charity was involved in "inappropriate use of funds" in relation to Prince William and Duchess Catherine's charity organisation.
Prince Harry has hit back at claims "offensive" claims made by anti-royal group, Republic.
It's been alleged that money was transferred illegitimately between Prince Harry and Prince William's royal charities because of their "personal relationship".
This royal news (opens in new tab) comes after it was reported that Prince Harry and Meghan Markle don't want a completely private life (opens in new tab).
Anti-royal campaign group, Republic, have claimed that money was illegitimately transferred between the Sussex's and the Cambridge's foundations, in light of the royal relatives' "personal relationship".
Republic allege that the Royal Foundation, a charity once backed by Prince Harry, Prince William and their wives, gave a £145,000 grant to Harry and Meghan's Sussex Royal organisation, along with a £144,901 sum to Travalyst, a non-profit travel organisation launched by Prince Harry.
In his complaint letter to the Charity Commission, Graham Smith, Republic's chief executive, said, "In both instances, it appears the only rationale for the decision was the personal relationship between two patrons, the Duke of Sussex and the Duke of Cambridge. Neither patrons are trustees of the Royal Foundation, so there is also a question mark over the independence of the trustees of the Royal Foundation.
"The Sussex Royal charity [has since closed], and it is reported that they will transfer all their funds to Travalyst... this appears to be a personal decision by a trustee [the Duke of Sussex] to fund another of his projects, rather than to ensure the funds are being used for the original purposes for which they were donated."
Prince Harry and his legal team have now hit back at the claims, branding them "offensive" and "insulting".
"To this point, it is deeply offensive to today see false claims made about the Duke of Sussex and his charitable work. It is both defamatory and insulting to all the outstanding organisations and people he has partnered with," a statement reads.
Prince Harry's spokesperson has also suggested that the claims made by Republic likely stem from a desire to create media backlash surrounding Prince Harry and his brother.
"The avenue through which this was publicly and salaciously created only suggests a hunger for media attention as well as a shared and attacking agenda, which is neither right nor just."