Prince Harry ditches royal surname in official documents registering his and Meghan's new career venture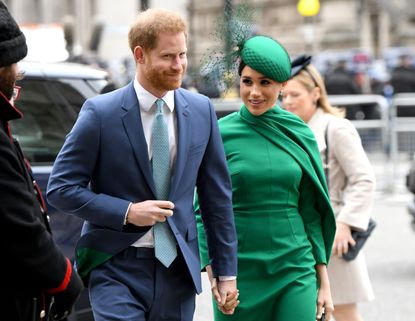 (Image credit: Getty)
Prince Harry has reportedly dropped his royal surname in new official documents.
The Queen's grandson and his wife, Duchess Meghan Markle, stepped back from being senior members of the royal family earlier this year and have since left the UK for a new life in California with their son Archie.
Now, it seems that Prince Harry has distanced himself further from the royal life by ditching his royal surname on official documents registering he and Meghan's new eco-friendly travel firm, Travalyst.
The Duke of Sussex omitted his HRH title and his royal surname Mountbatten-Windsor from the official papers and went for Prince Henry Charles Albert David Duke of Sussex, according to the Daily Mail.
Not using his HRH title comes as a result of Prince Harry's deal with Her Majesty the Queen that he would no longer use the royal name after stepping away from the family.
Meanwhile, his decision not to include Mountbatten-Windsor may have something to do with the fact his moniker is already quite a mouthful.
Prince Harry made it clear he was keen to gain some normality in regards to his name when he attended one of his last royal engagements in Edinburgh.
As he took to the stage to make his speech at the event, he is said to have asked hosts to introduce him as "just Harry".
"He's made it clear that we are all just to call him Harry. So ladies and gentlemen, please give a big, warm, Scottish welcome to Harry," Ayesha Hazarika told the audience before the Prince made an appearance.