Prince Charles expresses regret over handshake rejection on Northern Ireland tour
Prince Charles looked crestfallen after refusing a handshake from a royal fan on his Northern Ireland tour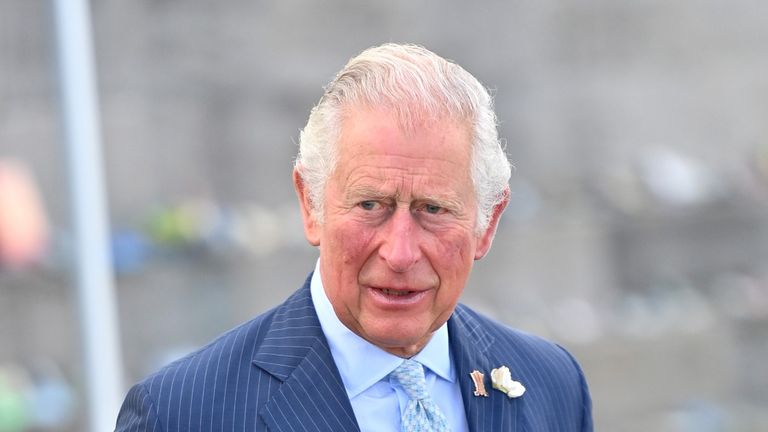 (Image credit: Samir Hussein - Pool / Getty Images)
By Emma Dooney
Prince Charles offered his sincere apologies to a woman on his Northern Ireland tour yesterday, after refusing a handshake from the adoring royal fan. 
---
The Prince of Wales and Duchess Camilla kicked off the second morning of their two-day overseas trip with a visit to Bangor Market, where they were warmly greeted by nearly 1,000 excited shoppers. 
The royal couple took their time to explore the historic open-air market, chatting casually with locals and fawning over their babies and pets. 
With coronavirus guidelines still in place, they were unable to share physical touch with the public. Prince Charles was spotted politely refusing a handshake from a woman, who appeared to have forgotten the restrictions in the heat of the moment. 
"I'm sorry, I can't," he said regrettably in response. Instead, he offered some friendly words to the royal fan, asking her if she'd done her shopping in the nearby Asda. 
"No, in the market!" she laughed. 
Prince Charles and Duchess Camilla continued their tour of the 98-year-old market, receiving complimentary sweets and flowers from merchants as they made their way around the stalls. While the pair appeared in good spirits throughout the visit, it seems the lack of physical contact is finally starting to wear on the future king. 
"Surely we can start shaking hands before too long," he said after fist-bumping one of the market's workers. 
Prince Charles and Duchess Camilla's midweek tour of Northern Ireland marks their 18th visit to the region. Their short stay has been packed with public engagements, including a stop at a silversmith's workshop and an open-air performance from young musicians. It wasn't all crafts and concerts though. 
During the visit, The Prince saw a musical performance by representatives of the @Ring_Of_Gullion Traditional Arts Partnership, a community arts association that focuses on traditional music and song. 🎶 #RoyalVisitNI pic.twitter.com/e2gtP2Oi60May 18, 2021
See more
Prince Charles carried out political business on the trip too, meeting with First Minister Arlene Foster at the Queen's residence in Northern Ireland, Hillsborough Castle. The DUP leader graciously welcomed the visit, praising his royal highness for being a 'tremendous supporter of building a shared and united community in Northern Ireland.' 
The tour also brought back fond memories of the Duke of Edinburgh, who died aged 99 on April 9. The late royal visited Northern Ireland almost 60 times in his lifetime—more than twice as many times as the Queen. Prince Charles paid tribute to Prince Philip in a Titanic shipyard photo in Belfast on Tuesday, recreating a photo taken in the same spot in 1977. 
The tour wrapped up on Wednesday evening after another hectic day of meeting schoolchildren, lifeguards, and even horses. Despite the pressure of such an intense trip, the couple remained upbeat throughout the stay. 
Sounds like Prince Charles and Camilla have well and truly earned their weekend.