Prince Charles and Duchess Camilla got creative to greet President Macron for his official London visit
The new normal!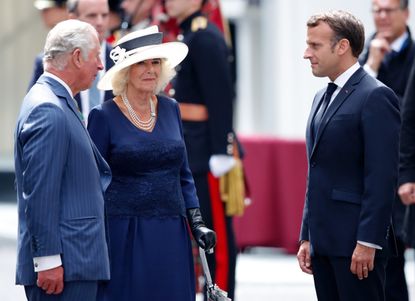 (Image credit: Getty Images)
Prince Charles and the Duchess of Cornwall stepped out for an in-person royal engagement yesterday.
The Prince of Wales and Duchess Camilla met with French President Emmanuel Macron in London for a very special occasion.
The three global icons met to celebrate the 80th anniversary of Charles de Gaulle's Appel speech, which was broadcast on the BBC and called for the Free French Forces to fight against the German occupation - a moment that is often considered to be the origin of the French Resistance in World War II.
With the Covid-19 pandemic at the forefront of the royals' minds, social distancing measures were firmly in place, and Prince Charles and Camilla carefully avoided a potentially virus-spreading handshake when they greeted Macron.
Instead the trio opted for a Namaste greeting when they met with the French leader at their London home, Clarence House, placing their hands together and bowing slightly.
They continued to stay at least two meters apart during theceremony at Carlton Gardens later in the day, where wreaths were laid at the statues of King George VI, the Queen Mother and de Gaulle.
Prince Charles, who tested positive for coronavirus in March, began choosing the traditional Hindu greeting during the Commonwealth Day service, but admitted he finds it hard to remember these parts of the new normal.
"It's just so hard to remember not to," he said when he almost went in for a handshake at the royal event.
It's also been reported that Prince Charles' coronavirus battle has left him unable to smell or taste.
Loss of taste and smell is an official symptom of the highly contagious virus and was something the future King experienced - and the senses still haven't returned.
Jeff Mills, a healthcare assistant from Cheltenham General Hospital, said, "He spoke about his loss of smell and taste and, sort of, still felt he's still got it now."