Mike and Zara's adorable baby daughter Lena Tindall takes her first steps in public as family enjoy fun weekend out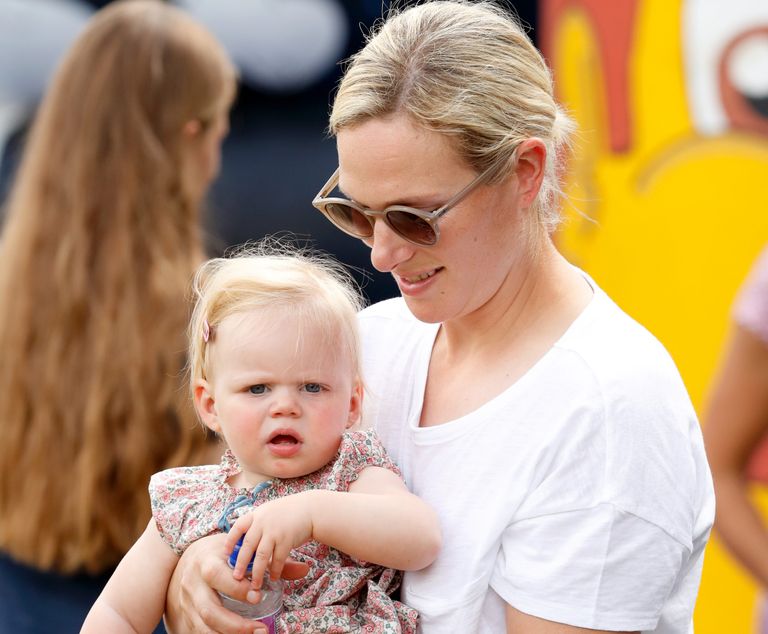 By Amy Hunt
Ever since she was born last year, Mike and Zara Tindall's youngest daughter Lena has rarely been seen in public, with the couple opting to keep their daughter's life relatively private so far.
But over the weekend, the utterly adorable one-year-old made one of her first forays out in public, in the grounds of Princess Anne's Gatcombe Park estate in Gloucestershire.
She joined her parents, older sister Mia, five, and her uncle Peter Phillips and his family - wife Autumn and daughters Isla and Savannah - at the fun day out.
It's one of the first times the public have seen baby Lena, and she proved to be utterly adorable in pictures published from the event.
The one-year-old was seen enjoying the bouncy castle in a sweet floral dress, before shakily toddling around the grounds of the park closely followed by her mum Zara.
Lena's resemblance to her dad Mike is easy to see in the cute pictures too as he joined the family on the Saturday - do you reckon they look similar?
In more pictures from the Phillips/Tindall family day out, Zara and Mike are seen adorably cuddling and kissing their baby girl, while at one point Lena enjoyed a ride on both her mum and dad's shoulders.
Her grandmother Princess Anne was also in attendance over the weekend, keeping a watchful eye over all of her grandchildren as they played in the field.
Baby Lena is almost exactly one year older than her royal cousin baby Archie, who was born back on 6th May 2019.
MORE:Prince Harry shares adorable personal message for 'amazing' wife Meghan on her birthday
Mike and Zara welcomed their second daughter after sadly going through two miscarriages. In an emotional interview with BBC News last year, Zara said, "It's been a horrible road, but we've come out the end of it, and hopefully, it makes you a stronger family."