King Charles could help solve one of Britain's oldest mysteries, defying the late Queen's wishes in doing so
King Charles is said to support the investigation into the Princes in the Tower, despite his mother expressly denying permission in the past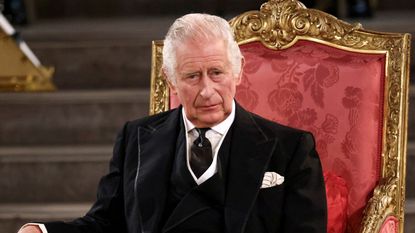 (Image credit: HENRY NICHOLLS/POOL/AFP via Getty Images)
The Princes in the Tower is one of Britain's oldest mysteries, immortalized in both fiction and historical research, and King Charles is said to be supportive of further exploration – despite his late mother, Queen Elizabeth II, reportedly expressly forbidding the same request in the past. His Majesty is said to be supportive of archaeologists digging up royal crypts to test the remains.
King Charles is said to be supportive of the excavation of royal crypts to further explore the mystery of the Princes in the Tower
This defies the late Queen Elizabeth II, who was reportedly against the idea, denying historians permission to disturb the final resting places
---
King Charles could help solve one of the longest unsolved mysteries in British history – the case of the Princes in the Tower.
Charles, who read history, archaeology and anthropology at Cambridge University during his undergraduate degree years, has a clear interest in all things historical.
Which could explain why he supports a project excavating a royal crypt and testing remains, despite his mother being firmly against it in the past.
Previous correspondence suggests that the Church of England, backed by the Queen, refused DNA testing on the grounds that it could set a precedent for testing historical theories that would lead to multiple royal disinterment.
However, Tracy Borman, joint chief curator of Historic Royal Palaces, has suggested that the King may have a different attitude, indicating that the mystery of the Princes' disappearance might just be solved yet.
"He is rumoured to have said he would like an investigation to go ahead, so that we can determine, once and for all, how the young royals died," she told the Sandon Literature Festival in Staffordshire.
Who were the Princes in the Tower?
History has come to know them as the Princes in the Tower, but they were actually (soon-to-be-King) Edward V and his brother Richard Duke of York.
They were the sons of Edward IV and his Queen, Elizabeth Woodville.
These two brothers were the only sons of King Edward IV and Elizabeth Woodville, surviving at the time of their father's death in 1483.
Aged 12 and 9 years old at that time, they were lodged in the Tower of London by Richard III, their paternal uncle and all-powerful regent the Duke of Gloucester.
This was supposedly in preparation for Edward V's forthcoming coronation. However, before the young king could be crowned, he and his brother were declared illegitimate.
Their uncle then ascended the throne as Richard III.
It is unclear what happened to the boys after the last recorded sighting of them in the tower.
It's generally believed that they were murdered by their uncle to strengthen his position on the throne.
William Shakespeare's play, Richard III, depicts this theory, and casts Richard III as a villainous, deceitful murderer.
Their deaths might have happened that same year (1483), but apart from their disappearance, no evidence supports this.
What evidence has there been to help solve the Princes in the Tower mystery?
In 1674, workmen at the tower dug up, from under the staircase, a wooden box containing two small human skeletons.
The bones were widely accepted at the time as those of the princes, but this has not been proven and is far from certain. King Charles II had the bones buried in Westminster Abbey, where they remain.
Should King Charles III and the current Dean of Westminster both agree, those remains will be exhumed for carbon dating, giving more insight into how far back they date, and what might have happened to them.
Jack Slater is not the Last Action Hero, but that's what comes up first when you Google him. Preferring a much more sedentary life, Jack gets his thrills by covering news, entertainment, celebrity, film and culture for woman&home, and other digital publications.
Having written for various print and online publications—ranging from national syndicates to niche magazines—Jack has written about nearly everything there is to write about, covering LGBTQ+ news, celebrity features, TV and film scoops, reviewing the latest theatre shows lighting up London's West End and the most pressing of SEO based stories.