James Middleton and wife Alizee enjoy ski trip with very special guest
James Middleton shared some incredible snapshots from his ski trip with wife Alizee and another special guest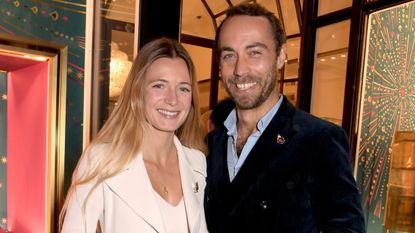 (Image credit: Getty Images)
James Middleton and his wife Alizee Thevenet jetted off for a pre-Easter ski trip with a very special guest in tow, sharing some impressive photographs and footage on social media.
---
Taking to Instagram, James, who has credited his troop of pooches for aiding with his mental health struggles in the past, shared an insight into his trip to the slopes with wife Alizee.
Revealing that another special family member joined them on their romantic trip, James explained that their dog Mabel made her snowy mountain debut.
"Mabel in the Mountains ⛰️⛷️ 🐾 This year we took Mabel on our skiing trip. Instead of getting ski passes and leaving her at home, she came with us & we walked up the mountains with her, and had lots of fun coming down," James, who recently shared a previously unseen snap of mom Carole, wrote.
Plenty of James's followers were wowed by the upload, taking to the comment section to share kind words.
One wrote, "Oh what fun! Mabel you are one lucky girl!"
"I love your outlook on life and lifestyle. Pups add so much love and joy. Your posts are so uplifting. Thanks for sharing," another added.
James recently shared the heartbreaking news that his beloved cocker spaniel Ella had passed away after 15 years of companionship.
Announcing the devastating loss James penned a touching tribute to his late pet, who was beside him through thick and thin.
"It is with great sadness that I announce my dear Ella has passed away. For 15 years Ella has been at my side, from my darkest days to my happiest. I'm going to miss her terribly," he wrote.
Detailing Ella's sad final moments, James added, "Ella had a very short illness, she slipped away in my arms at home and is now buried in the garden alongside Tilly. I took this picture just a few hours before she died.
"I'm just about holding it together to write this, and despite the fact I knew this day was coming, it doesn't make it any easier.

"Goodnight my darling Ella, Alizee and the dogs will take good care of me," he finally added.
James also opened up about how Ella had impacted the lives of Kate Middleton, Prince William and the Wales children too, in a heartbreaking piece written for The Sunday Times.
Explaining that Ella was the dog who brought Kate and William's beloved late dog Lupo into the world, James wrote, "All the family came to say their goodbyes. I can't speak for them but I believe she influenced their lives too. Lupo, Catherine and William's dog, was one of Ella's puppies.
"My sister Pippa and her husband have a pup from Ella, as do other family members," James added.