How much childcare for Prince George, Princess Charlotte and Prince Louis could cost
Prince William and Princess Kate have had the same nanny for almost 10 years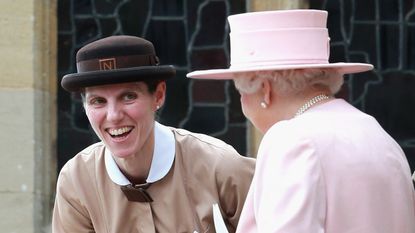 (Image credit: Getty Images)
Prince George, Princess Charlotte and Prince Louis have had the same nanny since they were born, after Kate and William hired Maria from the prestigious Norland college.
With so many royal duties to fulfill, it's no secret that Prince William and Kate Middleton employ a nanny to help take care of their three children.
Eight months after Prince George was born, the Prince and Princess of Wales hired nanny Maria Teresa Turrion Borrallo from the prestigious Norland agency in Bath.
After almost a decade with the royals, Maria - who is originally from Spain - has become a part of the family, with Kate previously telling friends she is "amazing".

But how much does Maria earn? Well, according to talent.com, the average salary for a nanny in the UK is $32,200 (£27,300) per year for non residential roles, while more experienced workers could earn around $48,000 (£41,495).
Those qualifying from Norland will get paid considerably more, with their website stating that the cost of placements depends on their work history and what hours they'd need to work.
According to HELLO! (opens in new tab), the average salary for a Norland Nanny working for a family in London ranges from $47,000 (£42,000) to $83,000 (£70,000).
The Mirror (opens in new tab) states the more experienced could take home $143,000 (£120,000), as well as other perks including trips abroad and living in the palace.
The Norland college website states, "Norland offers world-class training to those aspiring to be the very best professional childcare practitioners."
The college welcomes 100 pupils a year and the course costs $18,000 (£15,000), with graduates providing childcare for the likes of Mick Jagger.
They are famously known for their iconic 'Mary Poppins' uniforms which include women wearing A-line dresses and white gloves, while the men's uniform is a brown tweed jacket and beige chinos.
Finishing off their outfits, the women also wear brown boater hats with a gold 'N' for 'Norland'.
The practical uniform, when nannies are on placement, is made up of navy trousers, a jumper, and a light blue polo shirt.
They have been described as 'the most expensive nannies in the world' due to their intense training in everything from how to care for children, to defensive driving.
Norland Vice Principal Mandy Donaldson previously told Business Insider (opens in new tab), "We show them how to risk-assess different activities, and safeguard children in terms of protecting them from abuse, unsafe contact from others, and [making sure] children understand their rights and responsibilities."
Naomi is a news and lifestyle journalist and digital content creator with bylines in The Independent, The Sun, Cosmopolitan, and Fabulous. She covers a range of topics and currently works at Heart Radio in London.